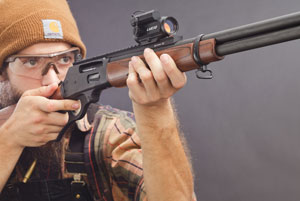 Red dot shooting will seem extremely overwhelming and tiresome if it's your first experience. This shouldn't be an invitation to quit the hobby though.
If you practice and explore strategic exercises, red dot shooting will become second nature.
You'll realize that it's not that complicated. If you're interested in becoming a better red dot shooter; check this beginner's guide of basic instructions.
Step 1: Handling the firearm.
Before you start practicing red dot shooting, you should learn how to handle the firearm. It's a safety measure to avoid unforeseen accidents. You should make sure your firearm is in a safe condition.
Step 2: Aim and shoot.
You should make sure you have a precise aiming when using your firearm. This makes the process of eliminating the target easier. Before you shoot at the intended target, you should make sure that you have an unobstructed view. As a rule, keep both eyes locked on the target.
Step 3: Aimpoint sight accuracy.
Now that you've learned the two most critical aspects of Aimpoint shooting; it's time for you to put these elementary lessons into practice.
Follow steps 1 to 2 until you're confident and focused. Once you've achieved Aimpoint accuracy, you'll experience a dramatic change in your results. You'll have better aiming. Your ability to shoot from different angles will also improve. You'll become a faster, more accurate firearm shooter.
Step 4: Locking the target.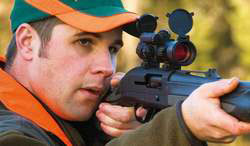 Your training is not yet complete. Step 1-3 are warm-up exercises. Now, you need to lower your pistol and keep both eyes fixed on the target.
Bring the firearm into aim once more without losing sight of the target. You should have an unobstructed view through the Aimpoint optics.
Step 5: Aimpoint targeting.
Place your firearm on your right or left shoulder. You should keep your eyes positioned on the target. Once the target is in focus, you'll see the red dot. Even if the red dot isn't centered in the Aimpoint optics; you don't have to raise a concern because it's parallax free.
[divider]
[checklist]
Safety tips for Aimpoint shooters
[/checklist]
Aimpoint shooting isn't the easiest lesson to digest. Nonetheless, your safety is a priority. If you're not fond of the open-eye shooting method, you can use the lens cover as a screen for the Aimpoint optics.
If you've found comfort in using the Aimpoint optics protected; you can aim at your target. Once the red dot is in focus; you've locked your target. You should keep practicing for these steps to drive any type of success. It should improve your viewing angle and keep distractions out of focus.
[divider]