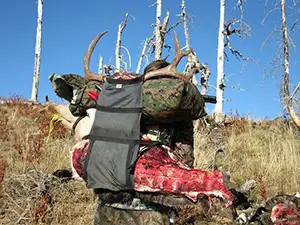 If you're planning a hunting trip, you have a lot of things you need to worry about. Not only do you need to find the right spot, but you're also going to want to make sure you're bringing all the necessary equipment.
If there's one piece of gear that you need to invest in, it's a high-quality hunting backpack.
Your backpack will be your lifeline on your trip. It's where all your essentials are going to stay. Your bag can ultimately make or break your trip. It's not uncommon for guys to choose a bag that's not big enough or one that's not able to withstand the constant exposure to Mother Nature.
Choosing a hunting bag can be tough. With all the options on the market, it's not easy to distinguish what bags are good and what bags are duds. To help make your search a bit easier, here are seven of the best hunting backpacks you can buy.
7 of the Best Hunting Backpacks
1. Badlands 2200 Hunting Pack and Meat Hauler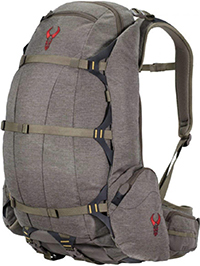 This backpack from Badlands is designed to be efficient and comfortable. The frame is built inside the body of the bag. Lightweight aluminum is used to cut back on bulk. The frame also works to transfer weight from your shoulders to your hips so that your center of gravity is perfect.
The bag itself is made of KXO-32 fabric. It's a waterproof material that's strong and quiet to avoid detection. Approach camouflage is printed onto the fabric so that you can blend in with the surroundings. Various straps and external pockets are included to keep all the essentials nearby.
An entry panel on the back provides quick access to your weapons and equipment. There's also a meat shelf to bring your haul home.
2. Badlands Superday Camouflage, Bow, Rifle, and Pistol Compatible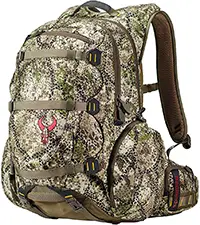 Another great option from Badlands is the Superday backpack. It's designed to give you enough storage space for a day or so of hunting. It's light and uses molded foam throughout to provide you with as much comfort as possible.
The loader lift straps are designed to reduce pressure on your shoulders by transferring some of the weight to the hips. It's covered in Cordura fabric. The material is resistant to abrasive damage, tears, and stains.
When you get home from the trip, you can toss it into the washing machine to freshen it up. The bag is compatible with pistols, bows, and rifles. You can also use it with a hydration bladder.
3. Eberlestock X2 Hunting BagPack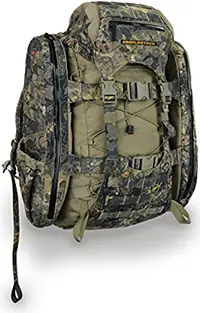 This is a heavy-duty bag that can serve any hunter well. The exterior of the backpack is made of NT7 material. It's completely waterproof and uses water-resistant construction methods to keep your gear safe from damage.
Various straps and accessory webbing is included. These create ample opportunities to strap on additional gear. Once you catch your game, the backpack can be used to haul it away. This bag has a Flex Chassis that flips down to create a shelf or a seat.
If you plan on carrying additional weapons, the backpack is compatible with a rifle scabbard or bow bag. It's available in five different camouflage patterns.
4. ALPS OutdoorZ Commander + Pack Bag
If you're looking for a backpack that can carry it all, take a look at this option from ALPS OutdoorZ. It's a sizable bag that includes plenty of storage options.
On the front is a large compartment for smaller items and a designated spotting scope pocket. Two hinged pockets on the side and a hydration bladder pocket are also included. If you want to carry your rifle, this backpack can handle that too. Simply slide it in and continue on your way.
The backpack itself is made from tough nylon ripstop fabric. It's resistant to any damage and can stay strong in wet conditions. The frame is removable and can be used to carry meat.
5. ALPS OutdoorZ Commander + Pack Bag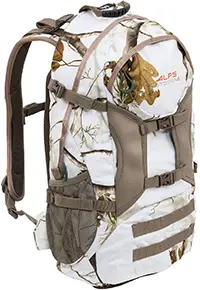 While it may look like it's on the smaller side, don't let this bag fool you. This backpack is fully capable of expanding and creating more storage spaces while you're on the hunt.
It has a sizable main compartment and has a bladder compartment to help you stay hydrated. There's also a pocket that drops down so that you can slip your rifle or bow right in.
Multiple attachment points are included on the front of the bag, so there's more than enough room to carry additional care if needed. While you can't see it from the outside, the bag does have a sturdy frame made of PE.
6. ALPS OutdoorZ Pursuit Hunting Pack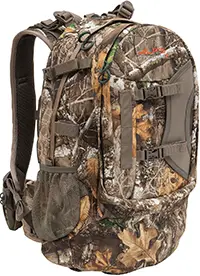 Also from ALPS OutdoorZ is the Pursuit hunting pack. It features a camouflage design throughout that incorporates solid neutral accents to help you remain unseen.
On the front, you'll find a large shelf pocket. This pocket flips down to expose all of your most important pieces of gear. Mesh pockets inside can help you stay organized. Additional pockets are placed around the outside. The backpack features a padded waist belt. It can hold clip-style holsters.
Like other bags from this brand, this pack has a drop-down pocket to hold your weapon. If it starts to rain, don't worry. A built-in rain cover is incorporated right into the bag.
7. Timber Hawk Killshot Backpack, 56.2-Liter Storage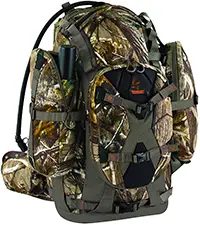 This backpack from Timber Hawk has a capacity of approximately 56.2 liters. This makes it suitable for a couple days of being out in the wilderness.
It has sizable compartments throughout to hold all of your essentials. It can even carry your rifle. Inside, the bag is lined with a twill material that's quiet. Multiple attachment straps are also included for additional camping or hiking accessories.
The backpack has adjustable shoulder straps and a padded waist belt for safety. Some additional features include a built-in rain cover in neon orange and a reversible hydration bladder.
Types of Hunting Backpacks
Hunting backpacks are specifically designed to meet the needs of a man on the hunt. They have unique features that can assist you while you're trying to nab that trophy game. There are a number of different kinds of backpacks on the market. They cater to specific styles of hunting.
Standard Backpacks
Also referred to as a daypack, these bags are very reminiscent of the style that you used in grade school. They're incredibly light and most hunters don't even realize they're on. As a result, they're ideal for stand hunters that want to pack light.
The main downside of a standard backpack is that they're quite small. They don't have enough room to accommodate large items and are used more for quick day trips.
Silent Backpacks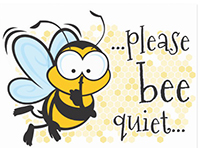 As the name implies, these bags are designed to be as quiet as possible. They're typically used when hunting animals that have a keen sense of hearing and smell.
They look simplistic in design because they don't have many of the same features as modern options. To remain silent, they must be free of dangling zippers or scratchy velcro.
Scabbard Bags
These are one of the most common types of bags used by modern hunters to keep weapons safe. They're expertly crafted to hold firearms correctly and to prevent any accidental misfires. They have a very distinct shape thanks to the rifle compartment. One great thing about this type of bag is that they're relatively easy to operate. You can take out your gun in only a few minutes and jump into action.
Bow Backpacks
Like a scabbard bag, bow backpacks are made for a particular type of hunter. They can hold your bow and arrows so that they stay safe while remaining close to you.
Framed Pack
If you're planning on taking a long trip that involves a lot of hiking, this option may be for you. These bags are very versatile and can be used to hold a lot of gear easily.
The frame provides support and makes it easier to organize your gear. Depending on the particular design, it may also have space to hold any game meat you hunted.
Framed Hauler
This is a great bag if you plan on bringing home a lot of meat. Often times, frame haulers are used in group hunting scenarios. One person may carry this bag while another carries a different type. This is because the framed hauler is designed for carrying meat and not much else. They typically have some storage space, but most of it is dedicated to carrying the prize.
Considerations
When you're shopping for that perfect hunting bag, there's a lot to consider. You need to take your time finding a backpack that works for your style of hunting. While it may be tempting to buy the cheapest option, it's a good idea to do your homework and purchase a backpack that can last you for many years to come.
Capacity
A backpack's capacity is often provided to give you a better idea of how much it can hold. Capacity is represented in liters. Depending on the design, backpacks can range from 20 liters all the way up to 70. The capacity of the bag can help you figure out how many days of gear it can hold.
Most single-day bags have a capacity of up to 30 liters. For three days, you're going to need about 50 liters. For anything over 5 days, go with a bag that can carry up to 70 liters.
It's good to choose a bag based on your plans. If you only plan on staying for a single night, there's no need to invest in the biggest bag on the rack. While it's good to have some extra space in your bag, that added bulk will weigh you down fast. It's good to plan ahead and get a backpack with a suitable capacity.
Material
The material used is an important thing to consider. The material will have an effect on everything the backpack comes in contact with. The quality of the fabric will determine how resilient it is, if it makes noise, and if it provides any protection from the elements whatsoever. Choosing the right material can be tough because it often includes making some sacrifices.
For many years, leather and canvas were the go-to. They're incredibly tough and resistant to physical damage. However, they can be a bit bulky. They're also prone to water damage if left exposed for prolonged periods of time.
Another option is nylon. Nylon is very light, can be treated to be waterproof, and doesn't cut or break very easily from outside force. The downside is that many nylon fabrics are very noisy. It could scare away potential game.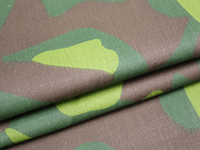 Choose the right material all comes down to where you're going and what you're hunting.
Regardless of the type of backpack you're getting, you want to find something that offers protection from the elements and physical damage.
Another thing you'll want to consider is camouflage. If you're hunting in a heavily wooded area, the last thing you want to bring is a bright white backpack. Choose a material that's printed to match your surroundings so that you can lay low.
Frame Options
Backpacks can have an external or internal frame. Both are great options. You'll need to choose a bag that's suitable for your particular plans. If you're taking a longer trip or over rough and dangerous terrain, use a back with an internal frame. These bags tend to shift the center of gravity bit. It can help you avoid losing your balance and experiencing an injury.
Backpacks with an external frame are great if you have a lot to carry. They tend to have higher capacities than the alternative. They're also ideal if you have large accessories like tents or sleeping bags. These items can be tied in pretty easily so that you can carry everything on your back.
Over to You
Modern hunting bags have a gone a long way from the designs of yesteryear. They're advanced pieces of equipment that's designed with your needs in mind. With the right bag in tow, you'll have everything you require to make your hunting trip a success.