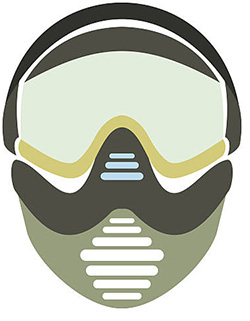 Paintball is a great way to get your blood pumping and experience the thrill of competition. Whether you're playing with a few friends in a desolate field or on huge teams in a detailed playing arena, there are a few things you can't go without. Aside from your paintball gun, you'll want to invest in high-quality protective gear.
One of the most important pieces of gear you can have is a mask. With these tough blobs of paint traveling upwards of 280 feet per second, they can cause some significant damage.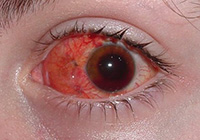 This is especially true when it comes to the face and eyes…..   Masks provide a protective barrier and prevent any painful misfires. They make it possible to see opponents and the playing field without having to worry about significant damage to the eyes.
A wide variety of masks are currently available on the market. They vary is style, function, and features. While most experienced paintball enthusiasts stick to their tried and true mask, it's important to find a mask that works for your needs.
Here are some of the best paintball masks for face and eye protection.
Top 6 Paintball Masks
1. Sly Profit LE Goggle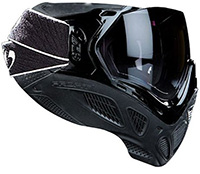 This mesh mask from Sly is a great option for players that want something that's light and protective. A wide lens protects the eyes and offers a wide field of view. Below it, a ventilated bottom protects the mouth while allowing air to flow freely for maximum comfort.
The inside of the mask is lined with velvet. It also uses a combination of closed-cell foam and SBR foam to absorb shock and reduce the force of impact. The lens can be separated from the mesh portion via an adjustable double strap. The lens is flanked by a durable nylon frame. The entire mask also uses a durable quick-release strap for easy removal.
2. Empire E-Flex Paintball Goggle System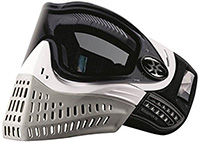 From Empire is this unique goggle system. The lens on the goggles can be removed with a quick change system. It's a dual-pane lens that's designed for toughness and clarity.
The lower portion of the mask features a number of slits for air ventilation. It's lightweight and very flexible. With Spectra Foam, the mask will move with you and prevent uncomfortable rubbing.
On either side of the mask, thermo-foam is used for ear protection. It provides a thick and flexible barrier that prevents significant injury. The mask is secured to the face via a thick and durable strap on the back. It's available in a variety of colors and has a low profile for improved cover.
3. HK Army Paintball KLR Thermal Anti-Fog Mask / Goggles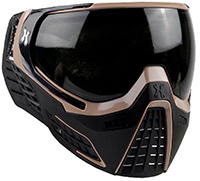 This mask has a variety of features to keep you protected while making sure that you can see all of the action. The dual-paned lens is designed to provide true high-definition clarity. It's also UV and IR protected, thermal, and changeable.
A quick change protection system makes it possible to remove the lens in seconds with no issues. The lens is surrounded by a robust thermoplastic elastomer mask. This material is durable enough to keep you safe but flexible enough to keep you comfortable.
Molded earpieces have your ears covered while strategically-placed ventilation holes promote airflow. Custom straps keep the mask secure as you play.
4. V-Force Grill Paintball Mask/Goggles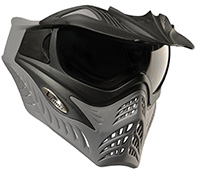 This VForce mask has a severe look while providing complete protection. It's made from a combination of hard plastics and flexible rubber.
The bottom of the mask has a soft grill that's breathable and light. The mask has a low profile design to minimize your chances of being hit while still providing great front and peripheral view. The lens is spherical and designed to be free of distortion.
It's also resistant to scratches, ensuring that the lens lasts for many aggressive plays. The lens is also thermo-cured and anti-fog. It comes in a range of great color combinations and features an aggressive sun visor.
5. Virtue VIO Extend Thermal Paintball Mask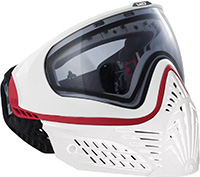 With a unique and versatile design, this mask is capable of changing with your needs. Every component can be switched out with separate parts, allowing you to customize it as you learn what works for you.
The thermal lens is large and wide to increase the field of view. It has a quick-change design for easy cleaning and is treated to resist the build up of fog. To further help with this issue, the mask has efficient venting.
Despite the presence of numerous vents, the lower part of the mask is designed for communication. You can speak clearly without echoes or significant muffling.
6. Dye Precision I4 Thermal Paintball Goggle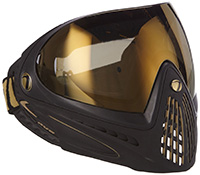 With its anatomical fit, this mask can conform to your face for ultimate protection. It's made from a combination of different types of foam that conforms to your face. It also helps to wick away moisture to keep you dry.
There's also formed earpieces to keep you protected. They absorb impact while remaining light and flexible for comfort. On the outside, the durable material is tested to fit ASTM and CE impact standards.
The included thermal lens is treated to prevent fogging and scratches. It also provides 100% UV-A, UV-B, and UVC protection. The scream venting system keeps things cool while also amplifying your voice for easy communication.
Types of Paintball Masks
When looking for a paintball mask, you'll soon discover that the term is a very broad and a general description of a few different types of protection. These three types of masks all provide different forms of protection and should be chosen based on the type of game you're playing.
Goggles
Goggles are the most basic form of face protection. They offer the least amount of protection, though they do shield the eyes. When paintball was first popularized, this was the only option. They cover the eyes but leave the rest of the face susceptible to hits. They can be worn with cloth and other protective gear to increase protection.
Mesh Masks
When the sport became more aggressive, the mesh mask was introduced. These masks are designed to accompany a separate pair of goggles. They cover only the bottom of the face. When worn with goggles, about a third of the face is protected.
Mesh masks offer a number of benefits. They're incredibly lightweight and are breathable. Made from a light material, the mask doesn't weigh you down or become cumbersome the longer you wear it. Various ventilation holes and slits located around the mouth area prevent hot air from building up inside, allowing you to stay cool and comfortable throughout the match.
Full Face Masks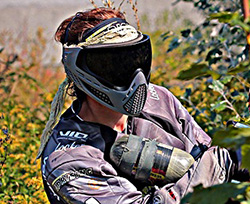 If you want the most protection possible, a full face mask is the best option. They combine the best features of goggles and mesh masks while throwing in a number of perks for full protection. They're often made from thicker material and incorporate their own built-in goggles.
Many manufacturers make it possible to remove goggles for easy cleanup. Ventilation holes keep things cool inside while built-in sun visors can help to improve your vision. If style is important to you, full masks are designed to look great as well. With numerous design options, it's not difficult to find one that looks great while keeping you safe.
Profiles
A mask profile refers to how the mask affects you vision from different angles. Masks can have profiles ranging from small to large. Some manufacturers also have options like thin, low, or wide. While it may not seem like a huge issue, choosing the right profile for the game you're playing can make a huge difference.
Generally, a smaller profile allows you to see around your cover without exposing too much of your mask. This makes it ideal for speedball and other fast-paced games. Alternatively, games played in wide open spaces can benefit from a wide or large profile.
Things to Look For
In addition to the type of mask and profile, there are a number of other factors to consider when choosing the right mask. The various safety and comfort features play a role in the overall performance of the mask in relation to your playing style. Paying attention to these considerations can help increase your performance as you dominate the playing field.
Lenses
The quality of the lens is important to ensure that your vision isn't hindered. Whether you choose goggles or a full face mask, lenses are designed to take a beating. Other features like tint and construction can help with performance as well. Like sunglasses, lenses can be treated for protection from UV rays. Certain colors will filter different types of light, making them suitable for specific conditions. Lenses can also be double-paned for added durability, thermally treated, removable, and fitted for use with eyeglasses.
Ear Protection
It's not uncommon for paintball enthusiasts to overlook ear protection. A shot to the ear can cause significant damage and hearing loss. Luckily, many full face and mesh helmets offer ways to protect your ears.
Some masks cover the ear entirely and include safety padding. This padding is designed to provide a comfortable cushion. Not only that but the padding can help absorb some of the shock for added protection.
Ventilation
One surefire way to ensure that your face isn't covered with sweat at the end of the day is by getting a mask that has proper ventilation. Ventilation holes are often located on the lower part of the mask around the mouth and nose. They're designed to improve air flow and preventing stagnant air from collecting inside.
Hot air from your breath can cause discomfort pretty quickly. Furthermore, it can result in foggy goggles that inhibit your vision. Ventilation keeps this issue at bay while also making it possible to communicate freely without having to take the mask off.
Security
Masks are secured to the head with a strap. The quality of this strap is important if you want to run around without having to worry about the mask falling off and exposing your face. Straps can be made from a variety of durable materials.
It's important to go with an option that will withstand years of use and includes a fastener that's easy to adjust. It should provide you with a snug but comfortable fit. Luckily, straps can usually be replaced pretty easily when the stock strap gives out.
Durability
The point of a mask is to protect your face, so why go with a cheap material that will break after a single hit? Thicker plastics and rubber with provide all the protection you need. The mask should be hard enough to withstand the force of a direct hit and more.
Softer materials can leave your head ringing. It's also good to go with masks that offer multiple layers of protection. Separate layers will spread the force of impact while absorbing the shock to minimize what you will feel.
Comfort
A comfortable mask will feel nearly invisible. It's important to choose a mask that doesn't hinder your performance in any way. An uncomfortable option is not only annoying but can also be dangerous.
Make sure that the mask fits great everywhere and doesn't cause any chaffing on the face and neck. Look out for extra padding that can improve the fit and feel of the mask. One great feature to look out for is a combination of hard and flexible materials. Flexibility will ensure that you have a full range of motion without sacrificing safety.
Conclusion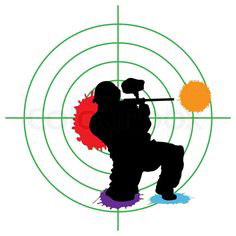 Regardless of the type of game you're playing, a face mask will keep you safe. Paintball is an aggressive game. While most players will avoid direct shots to the face, it's not uncommon for long-range or quick shots to go rogue.
If that should happen, masks will ensure that your eyes and face stay safe. With proper protection, you can play to the best of your abilities with no inhibitions.