If biking is your sport of choice, a variety of options is available. While you can surely choose a designated bike for the trails and a separate choice for the streets, a hybrid bike is a great option that lets you save money and space.
Hybrid bikes have pretty much revolutionized modern biking. They are a versatile option that incorporates the best attributes of mountain bikes and street bikes. If you are a hardcore biking enthusiast, hybrid options allow you to use your bike for your commute to work and head of to a rugged trail when you clock out.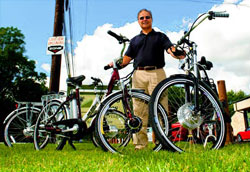 If you're in the market for a new hybrid bike, you'll be met with a range of options. Not all bikes are made the same. Some may include versatile riding features while others skimp on certain elements.
Not only that, but prices can vary dramatically. To make your decision a bit easier, here are the top 7 models under $500.
[divider style="normal" top="20″ bottom="20″]
7 Best Hybrid Bikes under $500
1. Schwinn Men's Siro 700c Hybrid Bicycle, Black, 18-Inch Frame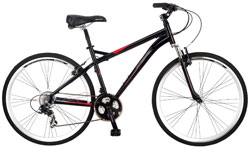 This option from Schwinn is the perfect example of a hybrid bike that can do it all. It has an 18-inch aluminum frame that is designed for versatility.
The suspension fork in the frame and suspension comfort seat make the bike comfortable to ride in rougher terrains.
Thick tires get through obstacles on and off the road with ease. A strong brake system ensures that you have control at all times. The handlebars have a unique adjustment system that allows you to choose a comfortable riding position based on where you are going. All in all, it's a stylish and versatile hybrid bike that is made for all types of riding.
[divider style="normal" top="20″ bottom="20″]
2. Diamondback Bicycles 2016 Trace Complete Dual Sport Bike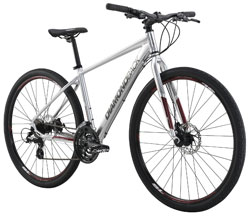 The Diamondback Trace is a well-rounded dual sport bike made to perform well in a variety of situations. The aluminum alloy frame is strong and robust. A fork suspension system is made from steel and minimizes bumps on the ride.
Because it is a dual sport hybrid, the bike features moderately sized wheels that perform well on a dirt trail or pavement. It has 21 speeds, allowing you to zip through a trail or busy street with ease. It is on the upper end of the price spectrum, but you can expect the bike to serve you well for many years to come.
[divider style="normal" top="20″ bottom="20″]
3. Vilano Performance 700C-21 Speed Shimano Hybrid Flat Bar Commuter Road Bike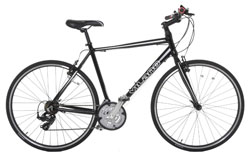 This bike from Vilano is a performance hybrid. Every component is carefully designed to work the best on paved surfaces. The frame is made from 6061 aluminum and crafted to be more aerodynamic.
For even more quality, the bike uses trusted Shimano components throughout. This ensures that you are purchasing a superb bike with parts that will last. The bike has 21 speeds and a robust alloy linear brake system. Overall, the bike is compact and light, making it easy to transport while improving its overall performance and agility.
[divider style="normal" top="20″ bottom="20″]

4. Diamondback Bicycles 2016 Insight 1 Complete Performance Hybrid Bike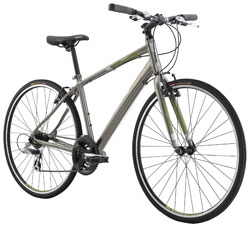 The Insight 1 is another performance hybrid, this time from Diamondback. This bike features a beautifully designed aluminum frame that is made for comfort and speed.
It's a 21-speed bike that uses high-quality Shimano shifters. The tires are from Kenda, another trusted brand. They are great tires that perform extremely well on pavement. Unlike thicker tires that may hinder agility, these tires improve response time and control. The bike comes in a variety of different sizes, allowing you to find the perfect option. However, each bike is light in weight and easy to maneuver.
[divider style="normal" top="20″ bottom="20″]
5. Diamondback Bicycles 2015 Edgewood Complete Hybrid Bike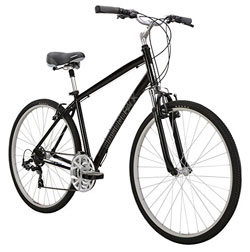 Another option from the trusted brand of Diamondback is the Edgewood. This bike is very popular among bikers that enjoy leisurely rides. It's a comfort hybrid, so the aluminum frame has a unique upright design.
The frame is also considerably thicker. However, the light material ensures that it doesn't weight too much. To further improve comfort, the front fork springs have a travel of 63mm, making the bike a great option for off-road trails. The bike has Shimano shifters and a very responsive pull brake system.
[divider style="normal" top="20″ bottom="20″]
6. Diamondback Insight 1 Flat Bar Road Bike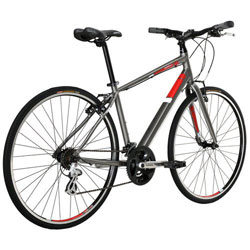 This is another version of the Diamondback Insight. However, this version of the Insight incorporates a flat bar design and lower price tag. It is very light in weight, making it great for road use.
The forks are made from steel while the rest of the frame are made from 6061 aluminum. The 32c Kenda tires are slightly thicker than your average road bike. This makes the bike versatile enough for an occasional ride through a grass park. With 21 speeds and a basic linear pull brake, you will easily dominate any terrain.
[divider style="normal" top="20″ bottom="20″]
7. Schwinn Discover Men's Hybrid Bike (700C Wheels)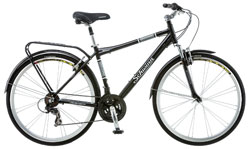 On the lower end of the price spectrum,this comfort hybrid from Schwinn is perfect for those who want a simple and pleasant ride.
The bike is truly made for comfort, as evident by the frame position, suspension fork, and adjustable handlebars. It even includes a built-in rack for additional gear. Everything about this bike is made for comfort. It is a 21-speed bike that uses SRAM shifters. The tires have a reasonable tread and are pretty wide, making the bike great for a pleasant stroll through the park or beach.
[divider style="solid" top="20″ bottom="20″]
How To Shop For a Hybrid Bike
Shopping for a hybrid bike can be a complicated process. Due to the very nature of a hybrid, there's not a commonly agreed upon design or style to look for. While a hybrid is essentially a combination of a mountain and road bike, it's not that simple.
Just because a bike is labeled as a hybrid doesn't necessarily mean that it's designed to work just as good on the pavement as it does in the mountains or vice versa.
Many bikes may be designed as a hybrid but lean toward one end of the spectrum. They may be designed with a specific terrain in mind, but work alright in others as well.
It's important to consider how and where the bike will be used. If you plan on using it to get to work, think about the path you take. Does it include grass or just pavement? You should also consider the possibility of taking the bike to a new trail and how often you intend to do that. Essentially, you'll want to determine exactly what type of hybrid bike you need.
Different Types of Hybrid Bikes
To make selecting a hybrid bike much simpler, manufacturers have begun to categorize bikes into one of four subcategories. These different labels help you better understand how a bike performs in certain situations and how it is designed.
Performance Hybrid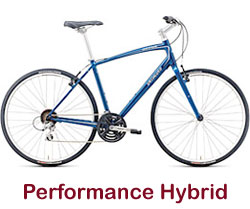 Performance hybrids are roadsters through and through. They are designed to be ridden mainly on paved roads. However, they incorporate wider tires that allow you to occasionally ride on grass and take the trail less traveled.
The frame is typical of hybrid bikes. It's durable and robust enough to withstand a bit of wear and tear. That being said, the frame of a performance hybrid is made to be more comfortable than a typical street bike. These bikes are made to be light and fast, so many features commonly found on hybrid bikes, like suspension parts, are not used.
Sport Hybrid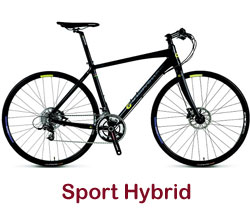 Sport hybrids are designed for fun and movement. They perform well both on and off the pavement, making them a popular choice among biking enthusiasts. While they are a hybrid, many of the bike's features make it a great choice for off-road biking.
They have thick and sturdy tires that can withstand variable terrains, a hardtail frame for trail riding, and responsive brakes for safety. The shocks and light frame are suited for a variety of adrenaline pumping activities. These bikes are often considered a lite version of a full blown mountain bike, but they are great for commuting on rough terrain.
Dual Sport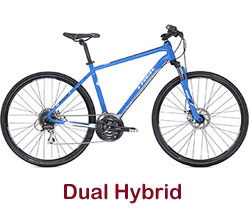 If you are looking for a truly versatile hybrid option, dual sport bikes are the way to go. They have simple features that make them suited for a variety of applications. In terms of performance, dual sport bikes provide a smooth ride regardless of where your adventure takes you.
The frame is light and agile, making it great for trail riding. However, these bikes don't have extra components to weigh you down. Because of this, dual sport hybrids are widely popular among commuters and trail riders alike.
Comfort Hybrid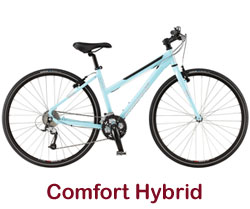 Just as the name implies, comfort hybrids are designed to be as comfortable as possible. They are best suited for riders that want a comfortable experience wherever they go.
Because comfort takes priority over performance, these bikes won't perform that well on mountain trails. The position of the seat and handlebars limit movement and agility on the bike, which is a necessity in off-road biking. That being said, comfort hybrids do have shocks that make them comfortable to use on grass, gravel, dirt, and a variety of other terrains. A carefully designed frame ensures that you are sitting upright for a leisurely ride.
[divider style="solid" top="20″ bottom="20″]