Skiing is a thrilling sport filled with some picture perfect moments. Not only are the slick tricks something to be remembered, but so are the natural surroundings. Up on the mountain, untouched snow and perfect views of the encompassing nature below are breathtaking.
Unfortunately, most guys aren't able to snap a photo during their trek down the mountain. The sport calls for zen-like concentration to avoid take a tumble at high speeds. Not only that, but bulky cameras can prove to be hazardous if they're not stored properly. Thankfully, newer technology has allowed advanced cameras to placed in one of the most discreet places imaginable: your goggles.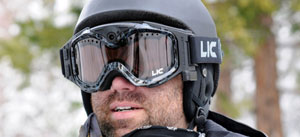 Ski goggles are a must-have accessory for hitting the slopes. They wrap around the head for a snug fit and protect the eyes from the wind and snow.
They also help to protect your vision, with many goggles having the same features as high-quality sunglasses. They'll keep your eyes safe and improve your vision as you traverse down the mountain.
Camera-equipped goggles allow you to capture every moment of your ride in high-definition clarity the same way you see it. Because the camera is built into the goggles, there's no added bulk to worry about. You can simply press record and fly down the slope in style.
Advantages of Camera Ski Goggles
High-tech goggles have a number of advantages. One of the biggest is how it captures your ride. For most models, the camera is placed in the middle of the goggles, just above the lens. The location is very close to your eyes, providing a realistic point of view that's better than any handheld alternative.
Another advantage is worry-free functionality. The goggles are designed to house the camera discreetly and out of the way. They look and feel like normal goggles, allowing skiers to focus on their ride rather than operating the camera.
3 Top-Rated Ski Goggles with Camera
Liquid Image XSC 338BLKApex Series Snow Goggle Video Camera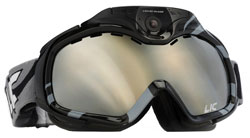 These goggles from Liquid Image are a great option for skiers. The low-profile camera is discreet, yet powerful. It shoots 1080P video and features a rotating camera lens for ultimate control.
It can hold a micro SD card of up to 32GB, providing more than enough memory to capture every run. It also has a powerful battery that is conveniently located on the side for charging. The lenses are dual-pane, anti-fog, and polarized, making them an overall great option for skiers.
Coleman VisionHD G9HD-SKI 1080p HD Waterproof POV Snow and Ski Goggles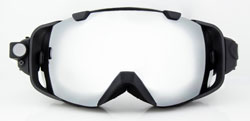 This pair of goggles features a robust design and a high-quality camera that shoots 1080p video for capturing every moment on the slopes. The wide-angle lens captures as much of the scene as possible. Controls for the camera are conveniently located on the sides for easy operation.
There's also a vibration alert to indicate when the camera is taking photos or videos. The goggles have a frameless design with lenses that are coated to combat fog and provide UV protection. They are also scratch-resistant for added durability.
Liquid Image XSC 384BLK All-Sport HD Video / Camera Goggles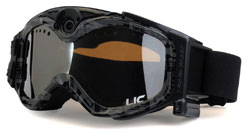 A more affordable option from Liquid Image, these goggles record ski runs without breaking the bank. The camera records 720p video and captures 5-megapixel photos on its wide angle lens. The camera can connect to a television via an AV cable for quick playback.
The unique thing about these goggles are the interchangeable lenses. It includes a dual-pane vented lens for skiing and a single lens for summer activities. Different types of lenses can be used based on the activity. All lenses are impact resistant and 100 percent UV protected.
What to Look for in a Pair of Ski Goggles with a Camera
When you're on your search for the perfect pair of goggles, there are a few things to consider. With a variety of makes and models available, these considerations will narrow down your search, making it easy to find the perfect goggles for your needs.
Camera Specifications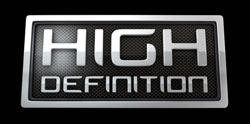 If you are investing in camera-equipped goggles, it's important to make sure that the camera itself can deliver. Manufacturers may use substandard cameras to make up for price or weight.
While high-definition cameras come at a price, they're able to capture more details the way you see them. Cameras with a high pixel count will produce crisp and clear images.
High-quality cameras are designed to produce great images while making the process a bit easier. Certain design features, such as a wide-angle lens and durable build, will ensure that the camera captures as much of the scenery as possible even through falls and tumbles.
Another thing to consider is the camera's storage capabilities and battery. Assuming that you'll be on the slope for a while, it's a good idea to find goggles with a camera that has a large expandable storage capacity and rechargeable battery.
Anti-Fog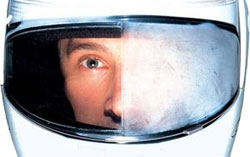 One common obstacle that skiers have to face is fogged lenses. The temperature outside and inside the goggles can cause fog that impairs vision. Not only that, but fog can completely ruin any footage you shot.
It's important to look for anti-fog treatments on your search for goggles to ensure that you always have a clear view.
Anti-fog coatings are commonly used among goggle manufacturers. Films or special chemical agents are used to prevent it. The coating is usually applied on the lens inside the goggles and on the camera lens. Special precautions should be used when cleaning the goggles to avoid ruining the coating.
Fans are another way of combating fog. Small fans are built into the goggles to circulate air above and inside the goggles. The fans are battery powered and usually designed to be unobtrusive and discreet. When paired with a coating, fog won't be a problem.
Ease of Use
One big thing to look out for in regards to the camera is ease of use. If you have to take off the goggles to start recording, take a picture, or adjust settings, you may find the goggles more cumbersome than helpful.
Easy access buttons are a great thing to look out for. They make operating the camera a breeze. They control the camera without having to fiddle through an array of buttons, allowing skiers to focus on their ride.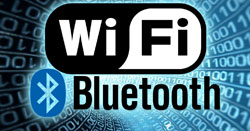 Bluetooth and wifi connectivity can make operation and use even easier. After connection, camera functions can be accessed on a smartphone or tablet. Some goggles can even provide a live stream through wifi that allows others to see what you're seeing. Wireless connectivity also makes downloading images and videos much simpler.
Polarization
Although polarized lenses won't have an effect on the way your camera performs, it does affect your vision on the slopes. On a bright sunny day, the sun can cause extreme reflections and glare off the white snow. Polarization combats these effects and improves your vision and reducing eye fatigue. It works in any lighting condition and doesn't affect vision in low light.
[divider style="normal" top="20″ bottom="20″]

Alternative Ways to Capture Ski Runs on Film
While camera-equipped goggles are a great way to record a run, it's not the only way. Other methods can capture unique angles and produce one-of-a-kind shots to remember.
Action Cameras
Action cameras
are a growing trend among video enthusiasts and adrenaline junkies alike. These cameras are designed to take a beating. Many are shock, tumble, and water resistant, making them a great option for capturing a ski run.
With their small size, these cameras can be mounted virtually anywhere. In fact, many manufacturers make special mounts specifically for sports like skiing. Cameras can be mounted on helmets to produce a similar angle as camera-equipped goggles. Alternatively, mounts for the arm and wrist capture unique angles.
Skiing with a Drone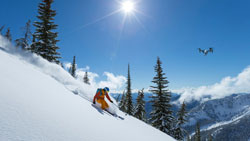 Often used for action movie sequences, drones can be used to get the ultimate shot. Essentially, drones are flying cameras that can maneuver with great precision. With an experienced operator, drones can easily capture stunning aerial shots and close-up tight angles.
Drones require the help of an operator to maneuver through obstacles and get the best shot. However, many drones also have detection software to avoid trees, ski lifts, and much more. With a drone, skiers can focus on their ride and let the operator capture the magic. If a drone is a bit out of your price range, many slopes have drone services to record your ride.