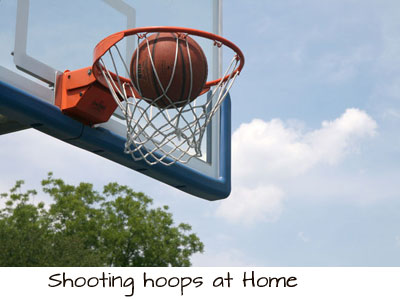 Basketball isn't just a game, but a way of life. There's nothing more enjoyable than shooting hoops every once in a while. It keeps us agile and quick while keeping the dreaded beer belly at bay.
On top of that,  it also provides us with much needed "guy time." Basketball allows us to kick it with friends in the heat of competition.
While most of us take time out of our day to hit up a basketball court, wouldn't it be nice to play a quick game in the backyard? To do this, you need to look at the best basketball hoops. A generic hoop just won't do. For the best playing experience, guys need to create a truly amazing court with a top notch basketball hoop.
Basketball Backboard and Rim
The backboard is one of the most prominent parts of a basketball hoop. It helps to make those impressive trick shots while providing rebound for long distance shoots. While most don't realize it, the material of the backboard can make all the difference. In professional playing, all backboards are made of glass.
Glass provides the best ball rebound out of any material. Not only does is look professional, but it gives players the advantage. Getting a glass backboard will give any backyard court a professional look. The glass is strengthened to add durability and safety. Furthermore, it can be customized with any design aesthetic.
Backboards can also be made out of acrylic and fiberglass. Acrylic offers a look similar to glass. However, it doesn't offer the same playability. Backboards made of fiberglass and graphite are generally more flexible. They are cheaper and easier to replace. Unfortunately, they don't offer a whole lot in terms of life span or rebound. If you want the best backboard, nothing beats glass.
Rims are generally made from metal. Professionals use coated steel for durability. You should always choose a strong rim. They'll allow you to make dunk shots without worry about breakage. While rims can be made from plastics and other alloys, you can never go wrong with steel.
Basketball Backboard Replacement
We've all been there, it's nothing to be ashamed about. A truly competitive game can cause guys to damage the backboard a bit. Additionally, time and old age can call for a replacement. Getting a basketball hoop that can easily be changed out is important. Many hoops have permanent installs, making it impossible to replace a backboard without replacing the whole unit. Players should always think about future replacements.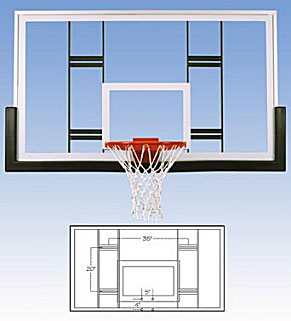 In most cases, replacing a backboard is as simple as unscrewing the old one and fitting the new one in. Broken backboards can easily be removed and replaced, letting players get back in the game.
A replaceable backboard also gives you the option of customizing its appearance. Should you ever want to change up the look, you can simply take it off for personalization.
Basketball Backboard Dimensions
According to NBA regulations, professional basketball backboards are 72 inches wide and 42 inches high. This gives players maximum use of the backboard for rebound and trick shots. They are predominantly rectangular shaped, making them less of an obstruction in the spectator's view. Anyone can get a regulation sized backboard. However, smaller playing areas may call for smaller sizes.
Depending on the size of the playing court, backboards can come in sizes as small as 44 inches. While they don't exactly replicate a professional playing experience, they do offer enough for a great game. Backboards can also come in a few different shapes. Backyard players can get oval or fan shaped backboards. They do offer less rebound space, but provide a better aesthetic choice.
Basketball Hoop Installation
Installing the hoop all depends on how you want to play your game. Professionals generally keep their hoop at about 10 feet off the ground. This provides a true playing experience. However, since most of us aren't over 7 feet tall, you may want to lower that height a bit.
For the most flexibility, there are great adjustable poles available. These poles allow you change the height based on who is playing and how challenging you want the game to be. For a more challenging game, go as high as you can!
There are also a number of different types of installation. For a permanent install, you can have a pole installed into the ground directly. This ensures that the actual hoop is sturdy. A portable hoop has a base that can be filled with sand or water. This can be moved to other parts of the yard, but you have to be cautious when making dunk shots. There's always the risk of knocking the whole thing down.
Choosing where to install the hoop is another thing to consider. While most of us are happy with a hoop next to a driveway, you may want to consider the effect the hoop will have on your curb appeal. It's important to have a hoop that compliments the house rather than being an eyesore. For a better playing experience, you can install the hoop next to a backyard patio. This gives you a bigger playing court while being tucked away from prying eyes

[box type="shadow" ]
      Top 5 Basketball Hoop Reviews
[/box]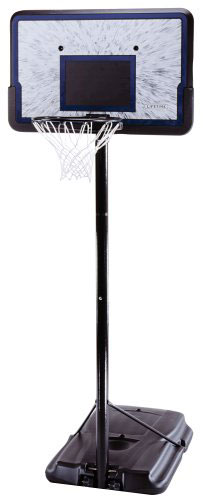 This model is great for those on a budget or have limited playing space. The backboard is only 44 inches wide, making it great for tight spaces. It's also ultra portable. It has wheels and a 27 gallon base that can be filled.
Height wise, the hoop can be adjusted from 7.5 up to 10.5 feet. The backboard isn't the highest of quality. It's made from polyethylene, which is a type of ridged plastic with a high density. It is, however, UV protected. This makes it resistant to sun damage and cracking. In terms of rebound, the plastic material doesn't do much.
Overall, this model is great for beginners or casual gamers. It can be good for a quick game, but doesn't have the strength or features for a truly competitive game. That being said, those looking for a more economical route can benefit from its affordable materials.
Last seen Price :  $99.00        Check current Price /  Lifetime 1221 Pro Court
[divider]
Lifetime 71525 In-Ground System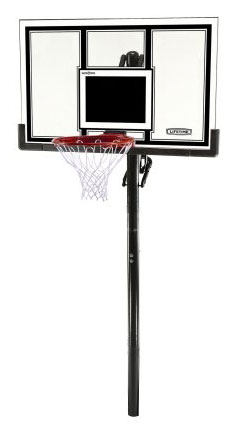 This basketball hoop is a permanent install that can hold up to competitive gaming. The pole installs directly into cement, providing years of dunking.The pole also has an easy system for adjusting the height. It can be adjusted anywhere between 7.5 and 10 feet using a lift system.
While the backboard isn't made of glass, it does use a clear polycarbonate that simulates real glass. It's also completely shatterproof, allowing you to make dunks without the worry of breaking it. The backboard is 54 inches wide, making it suitable for medium sized playing courts.
The rim itself is made for dunk shots. It has a double compression spring that's flexible and safe.
This permanent installation is a great option for hardcore gamers and beginners alike. It's a bit more rigid than a portable hoop, making it a great option for more competitive players. With the appearance of a professional hoop, any NBA lover will enjoy using it.
Last seen Price $339.00     Check current price / Lifetime 71525 IN-Ground system
[divider]
Lifetime 44 Inch Backboard Rim Combo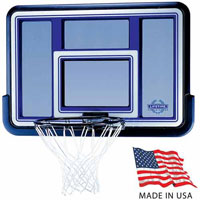 Those looking to mount a basketball hoop on a building or existing pole can benefit from this combo. The backboard and rim can be installed on a wall, roof, or 3.5 inch pole. This makes it very flexible. It doesn't take up a lot of space like a permanent install or portable model.
The backboard is 44 inches wide and made of a specialized acrylic, providing a descent rebound. It's ultra durable and shatterproof, withstanding any dunks that you throw at it. The padded frame of the backboard is made from polyethylene. The rim is made from solid steel and incorporates double compression for extra flexibility.
It's an overall great model for those who don't want their basketball hoop to take up a lot of room. While it's not as good as a professional hoop, its materials still provide a great playing experience.
Last Seen Price :  $87,00        Check current Price / Lifetime 44-Inch Backboard/Rim Combo
[divider]
Spalding 79351 44 Inch Backboard Rim Combo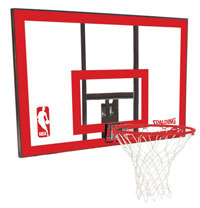 Similar to the previous model, the Spalding 79351 can be mounted on a building or roof. It's also 44 inches wide, providing flexibility in placement. The backboard is made from polycarbonate rather than acrylic. It also has a solid steel breakaway rim. It has springs for easy dunking and safety.
While the backboard isn't the best material available, it's a great option for casual gamers. It's simple in design, forgoing all the bells and whistles. Instead, Spalding has a simple hoop that's easy to install and start playing. It's design is very professional. It even has an NBA logo to put you in the competitive mood.
Last Seen Price :  $104,00        Check current Price / Spalding 79351 Backboard/Rim Combo
[divider]
Lifetime 90040 Portable System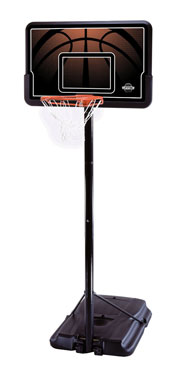 This portable system is made to withstand the elements and anything thrown at it. It has a powder coated pole and rim, making it weather and rust resistant. It incorporates a 27 gallon base that can be filled with water or sand for sturdiness. The hoop can be adjusted from 7.5 to 10.5 feet in height, accommodating any player.
The backboard is made from polyethylene. While it doesn't have the best rebound, the dense plastic has high durability. It's coated to resist weather damage, making it capable of lasting for many years. The 44 inch backboard is bordered by coated steel as well.
All in all, this portable model is made to last. While it may not be made with professional materials, it's a great option for a quick game in the backyard. Not only that, but it's sleek in design. It will definitely look cool in any playing space.
Last Seen Price:  $119,00        Check current Price / Lifetime 90040 Portable Basketball System