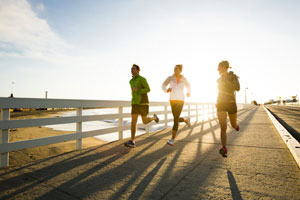 Just like hockey players wear protective gear to keep their bodies safe, runners need to protect their most important asset. While most runners wear the right shoes with comfortable insoles to avoid injury, many forget to pop on a pair of sunglasses.
Sunglasses help keep your vision sharp while protecting your eyes from harmful ultraviolet light that could cause long-term damage with prolonged exposure. Not only that, but the right pair of sunglasses will help to improve your stamina. Straining your eyes in the sun actually creates more tension in the body, making you feel fatigued sooner. With a stylish pair of shades, you'll have the protection and comfort your eyes need to make the most out of your run.
While some form of protection is better than none at all, there are a few things runners should look for when selecting a pair of sunglasses. Designer sunglasses aren't made to withstand the wear and tear of a rigorous workout. They also tend to lack in the level of protection they offer.
Despite their cool aesthetic, runners should avoid these and go with a sporty pair of sunglasses instead. In addition to the most protection possible, these shades need to stay on your face through the motions of running and have the durability to survive a fall.
Here you can find more information on how to get the most out of your sunglasses and things you should keep in mind when making a purchase. Below you can find an overview of five outstanding sunglasses that can truly enhance your running experience.
5 of the Best Sunglasses for Running
Oakley Radar Path Sunglasses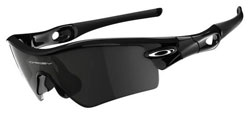 Oakley sunglasses are a staple for any sports enthusiast. They are known for their high quality materials, great build, and incredible style.
The Oakley Radar Path sunglasses are an excellent choice for running. They have a stress resistant frame and unobtainium nose pad for a snug fit on the face.The innovative build provides much needed flexibility without cracking or breaking.While the lenses are not polarized, they do offer 100% protection from UVA, UVB, and blue light. They also have a special lens coating that reduces glare.
The polycarbonate lenses are resistant to high mass and high velocity impacts, allowing them to withstand tough falls.
The lenses have unique three-point fit that ensures that the lenses stay within optical alignment at all times, regardless of your movements. Available in three different colors, guys can choose one that matches their style and personality.While it may be a pricier option, you'll be getting a high quality pair of sunglasses that will surely last for many years to come.
—————————————————————————————————————————–
Oakley Radar 09-763 Iridium Sport Sunglasses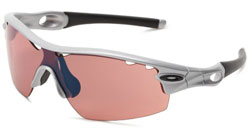 Another option from Oakley, the Radar 09-763 Iridium Sport sunglasses implements all of their best technology to create a stylish, yet functional pair of sunglasses. The frame is made from plastic while the lenses are made from Iridium, ensuring that they have high durability.
The lenses are coated with a water repellent to keep the lenses free from sweat and moisture. It'll also protect it from dirt, smudges, and any other undesirable marks that may occur on a run. The plastic frame wraps around the head and features rubberized ear caps to keep the shades secure on the face despite rigorous movement and sweat.
In terms of protection, these sunglasses offer the highest level of safety from ultraviolet rays. It has 100% protection and can even be made to improve vision with a prescription from an optician. These sunglasses are also available in a variety of different frame and lens color tints.
—————————————————————————————————————————–
Tifosi Talos 1180300131 Shield Sunglasses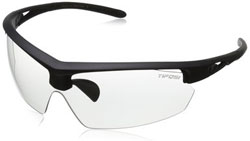 These sunglasses from the Italian optic company Tifosi are lightweight, but provide a lot of protection. They come in a number of different colors and tints based on the running environment. Runners can even choose to get a clear lens for clarity while still getting 100% UV protection.
The sunglasses incorporate a special nylon that has high flexibility and strength, making them very tough and durable. They also have hydrophilic ear and nose pieces to secure the glasses on the face while you sweat.
Instead of two separate lenses, Tifosi uses a single polycarbonate lens to cover both eyes. The durable frame holds onto the lens from above, providing better coverage and reduced light leaks. The lens is also vented for better circulation.
The Tifosi Talos 1180300131 Shield sunglasses are moderately priced, allowing anyone to take advantage of their protection and style.
—————————————————————————————————————————–
Nike Skylon Ace Sunglasses
From the trusted sports brand Nike comes the Skylon Ace sunglasses. These shades are designed with sports in mind, making them an ideal choice for runners around the world. The unique thing about these sunglasses is the ability to change out the lenses.
They come with an additional pair of blue flash lenses, giving you the opportunity to change out your lenses based on the conditions of your running environment. The frame is made from a lightweight plastic and is designed to wrap around your head for a secure fit.
The arms are also wrapped in a secure rubberized material to prevent slipping. To prevent fogging and increase airflow, the sunglasses also incorporate vents in the nose bridge.
With 100% UVA and UVB protection, you can run in any environment without having to worry about your eyes taking the fall.
—————————————————————————————————————————–
Optic Nerve Neurotoxin2.0 Sunglasses
If you want to stand out a bit, you can go with the Optic Nerve Neurotoxin 2.0 sunglasses. Featuring bright and fun colors, these sunglasses have all the style and visibility you will need.
These shades also have the ability to change out lenses. They come with an additional 3 pairs of lenses in copper, smoke, and clear tints.The lenses have also have a hydrophobic coating to keep water, oil, dirt, and dust away.
The T90 frame and lenses are impact resistant, keeping them intact during drops. The frames are also vented to increase air circulation, ultimately making them more comfortable to wear during a run. Protection wise, these sunglasses are safe to wear for extended periods of time. They have 100% UV protection on the main lenses and the interchangeable ones. As one of the most affordable options on this list, these shades are certainly worth the investment.
[divider]

[divider]
What To Look For In A Pair Of Running Sunglasses
Protection
Ultimately, the most important job of a pair of sunglasses is to protect your eyes. Runners should look for sunglasses that offer 100% protection from UVA and UVB rays. 100% protection is the only way to avoid the damaging effects of the sun.
UVB rays are the most dangerous type of ultraviolet light, but runners should also get protection from UVA rays to be safe. A huge misconception about UV protection is that darker shades are the better option. In reality, there is no way to determine the effectiveness of UV protection from appearance alone.
A special coating or additive is applied to the lenses to block UV rays from getting through. Guys should look to the label for protective information. Anything labeled "100% protection" or "UV 400" is the way to go.
Lens Material
The material of the actual lenses can play a big role in the comfort and durability of a pair of shades. It can also have a big effect on price. Different materials have their own advantages and specific applications.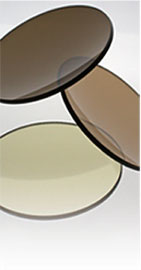 The highest quality material available is glass. Glass offers the most visual clarity and is very scratch resistant. However, glass sunglasses are heftier and can cost significantly more than the alternatives.
Polyurethane lenses are a great alternative that offers excellent clarity. It is also very impact and scratch resistant, making it great for runners who are running in terrain that may cause them to drop their shades.
One of the most affordable lens options is polycarbonate. Polycarbonate is very lightweight and impact resistant. However, the clarity isn't as good as other options and lenses made with it are more prone to scratching.
Lens Treatments
There are a number of different treatment options available that provide a multitude of different benefits. Runners can choose a treatment based on the amount of sun they are exposed to and get the best protection possible.
[checklist]
Polarized lenses are a great option for runners that are exposed to a lot of reflections from nearby terrain, such as water and snow. They reduce the glare that comes off of the ground to improve clarity.
Photochromic lenses are a versatile choice that changes the level of tint based on the amount of sunlight the lenses are exposed to. These lenses provide the right amount of shade at all times, making it easier to see in varying light conditions.
Tinted or colored lenses filter light in different ways for additional benefits. Tinted shades limit the amount of light that goes through the lens. They are usually categorized between a 1 and a 4, with category 4 lenses having the darkest tint.
[/checklist]
Colored lenses filter certain light waves to enhance or subdue specific colors. Usually, gray lenses are the best option for runners because they allow you to see true colors. However, other colors can be used for certain conditions. For example, yellow lenses are great for low-light conditions, as they increase contrast.
Fit and Comfort

In addition to the type of lenses used, guys should look at the frame and any additional parts of the sunglasses that provide comfort.
One of the best frame choices for runners is one that wraps around the head. Not only will it conform to the curves of your dome, but it will help to secure the lenses on your face amongst the bounces of running.
It is good to look for frames that have rubberized parts of the frame to ensure that they will not slip on sweat. Additionally, runners should look for comfortable nose guards to ensure that they don't cause rashes or bumps. Extra features like air vents and ear grips will only add comfort, making a run more effective.