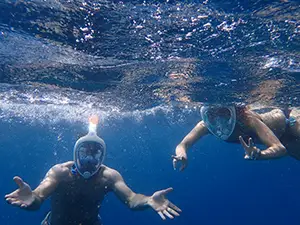 Full face snorkel masks have grown in popularity over recent years. Contrary to popular belief, these masks are not a new innovation.
They've been around for years but were only used by a small minority of snorkeling enthusiasts.
Today, this type of gear is used by novices and experienced snorkelers alike. Full face snorkeling masks are a unique alternative to the traditional design.
Rather than having to deal with two separate accessories, the breathing pipe and goggles are built as one unit.
These snorkel masks are sought-after because of their performance and ease-of-use. Because your whole face is covered and protected by the shield, you have a wide field of vision and can breathe normally.
With that being said, these masks do come with their limitations. There are plenty of options on the market to choose from. To give you a better idea of how this gear works and help you in your search for the perfect mask, here's a list of some of the top 5 options on the market.
5 of the Best Full Face Snorkel Masks
1. Tribord Easybreath Full Face Snorkeling Mask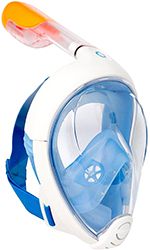 This model from Tribord is capable of giving you 180 degrees of unobstructed view in the water. The clear window is made of tough polycarbonate material. It's completely shatterproof for safety and easy to clean when you're finished exploring.
Inside, the mask is carefully designed to prevent fogging and water leaks. You can easily breathe through your mouth or nose. That stream of exhaled air is routed around your face so that the warmth doesn't affect the clarity of the window.
If the snorkel gets submerged underwater, it plugs up automatically to keep water out. Even if water does get inside, the bottom of the mask has a drainage system to get rid of it quickly.
[divider style="normal" top="20″ bottom="30″]
2. Wildhorn Outfitters Seaview 180° GoPro Compatible Snorkel Mask
Stay safe and comfortable in the water with this mask from WildHorn. It utilizes high-quality silicone around the perimeter of the mask to help you get a snug fit and keep water out. A one-way chin valve is located on the bottom of the mask.
With a tilt of your head, you can rid of any water inside the mask. The breathing system is also designed for comfort and performance. You can breathe through your mouth or your nose. The breathing chambers are separated from the clear viewing window to prevent fog from forming.
The mask is available in a range of sizes and a collection of vibrant colors. There's also a mount for your GoPro camera so that you can review the action later.
[divider style="normal" top="20″ bottom="50″]
3. Ocean Reef Aria Full Face Snorkel Mask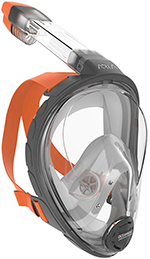 This mask from Ocean Reef is made from a unique thermoplastic material. It's a tough material that's also lightweight so that it's not cumbersome to wear for long periods of time. To make travel a breeze, the snorkel detaches.
The mask features a fresh air ventilation system that prevents fog from forming. The snorkel unit also has a dry top system. It keeps water from getting into your mask while you swim.
There's also an automatic valve at the bottom. It will remove any water from the mask once you get out of the water without having to lift a finger.
[divider style="normal" top="20″ bottom="50″]
4. Octobermoon Second Generation Panoramic full face Snorkel Mask with Anti-Fog Design
If you want to explore the water without having to worry about how you breathe, consider this mask from Octobermoon. It has a large breathing tube and a separate chambered breathing compartment.
You can breathe normally through your nose with no issues. The breathing tube also has a covered top that lets fresh air in while keeping water out. It folds down for transportation.
The mask also has a thick silicone insert around the perimeter. It helps to achieve a tight seal no matter how large or small your face may be. There's also adjustable straps that don't pull your hair or face.
[divider style="normal" top="20″ bottom="50″]
5. Vaincre 180° Full Face Snorkel Mask with Anti-Fog, Anti-Leak Design
This mask from Vaincre is designed for young enthusiasts and adults alike. The harness straps on the back of the mask hug your head comfortably to keep the unit in place.
They're fully adjustable and are made from a soft material that doesn't chafe or pull. The anti-fog lens is clear and wide. It can provide you with a 180-degree field of vision. It also has a dry top system on the end of the snorkel to prevent water from getting in.
It's available in a range of colors and has a mount for your GoPro camera.
[divider style="solid" top="20″ bottom="50″]
Snorkeling with Bad Eyesight
If you don't have perfect 20/20 vision, don't fret. There are many great options out there to correct your vision so that you can get a clear picture of life under the water. Masks aren't designed with prescription glasses in mind. You won't be able to wear your glasses with the mask.
However, some manufacturers build their masks with lenses that match your prescription. They fit over your face like a normal mask and have all the same features you'd expect on a quality piece of gear. Here's a great prescription snorkel mask option to help enthusiasts with bad eyesight.
Optical Corrective Scuba Dive Snorkeling Mask Prescription Lenses
This piece of gear has a lens made of tempered glass. The glass goes through chemical and thermal processes to increase its strength. The surrounding frame is made of durable plastic. The skirting around the perimeter of the mask is made from injected liquid silicone.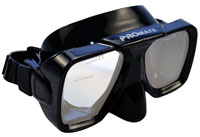 It's a double edge system to ensure that water stays out. The adjustable head strap is also made of flexible silicone. In terms of vision correction, these glasses are available in a variety of configurations.
Whether you're nearsighted, farsighted, or need bifocals, this mask has you covered. The lenses can be made to provide correction levels between -1.0 to -10.0 and +1.0 to +4.0.
[divider style="normal" top="20″ bottom="50″]
What to Know Before Buying a Full Face Snorkel Mask
While these innovative snorkeling masks can make the leisurely activity accessible to a wide range of different people, they're not made for everyone. They come with a few limitations that you should be wary of before you jump in. The core design of a full face mask can pose a few problems for some snorkelers regardless of how well-built a product is.
Depth Limitations
One of the biggest downsides to a full face mask is that they aren't effective for freediving. If you plan on viewing the sea life from the surface of the water, you'll have no problem. It's when you choose to go deep below the surface that you may face issues. Not only can the device fill with water, but you'll experience pressure issues.
They're simply not designed to regulate pressure. Furthermore, won't have free access to your nose without taking the mask off. This makes it impossible for you to pop your ears to get comfortable. If you plan on going freediving, it's best to stick with a traditional snorkel design.
Facial Hair Gets in the Way
If you have a long and healthy beard, you may experience some problems with leaking water. The edges of the mask need to make contact with your skin to create a tight seal. Long facial hair will prevent this from happening, causing your mask to fill up with water. While some stubble or short beard hair won't be an issue, anything longer will render the full face mask useless.
There's No Room for Glasses
Contrary to popular belief, full face snorkeling masks don't have any additional room to accommodate prescription glasses. The clear shield that gives you a clear view of the underwater life around you is relatively close to your face. There's no extra wiggle room for even the smallest pair of eyeglasses.
If you need corrective eyewear, consider wearing contact lenses or investing in a snorkeling mask that has prescription lenses built right in.
Not Made for Heavy Breathing
It's not uncommon for swimmers to wear snorkeling masks while they exercise. Full face snorkeling masks shouldn't be worn for this purpose. They're designed for calm breathing. You can do a bit of fast swimming to get to your destination, but regular hard breathing isn't recommended.
The design of the breathing tube doesn't give you that extra burst of oxygen you'll need to regulate your breathing. Not only that, but your vision will be compromised the harder you breathe. With those extra breaths comes more heat and fog.
Fit is Crucial
A full face mask will perform well only if it's fitted to your face correctly. If not, you may experience slow leaks around the perimeter. Masks are available in a range of sizes to accommodate faces big and small. Most manufacturers include a sizing chart to make selection easier. It's recommended that you measure your face accordingly and choose an option that will provide you with a snug fit.
[divider style="normal" top="20″ bottom="50″]
How to Use a Full Face Snorkeling Mask
Full face snorkeling masks are designed to be comfortable and easy to use. They have a number of features to keep you safe. However, it's important that you take the time to get used to the gear before you set out on your adventure.
The first thing you should do is get the mask to seal to your face. To do this, leave the straps off and place it on your face. Once it's on, suck in some air to create a vacuum. This will cause the mask to come closer to your face. The rubber around the perimeter will prevent the air from escaping.
If you have to continually inhale to get the mask to stick, it means that there's something preventing the seal from forming. It could be fitted improperly or you may have an obstacle between your mask and face. If the issue is fit, you need to get a properly fitted mask before you head for the water.
Once the mask is sealed to your face, secure the straps to ensure that it stays in place. Now you're ready to jump in! You should always make sure to snorkel with a partner for safety. Also, never dive under the water or do any strenuous swimming.
If water should leak into your mask, whether it's through the snorkel tube or from the sides of your face, simply lift your head out of the water. These masks have an automatic drainage system that will get rid of the water without having to take it off. If you're having difficulties breathing, get out of the water and take the mask off as soon as possible.
Snorkel Masks vs. Traditional Goggles
The main difference between masks and goggles is how they keep you protected while you're in the water.
Traditional goggles provide a seal around your eye sockets. They may also cover your nose, but the nose and eye section aren't connected.
Masks, on the other hand, cover your entire face. Your nose and eyes are all protected under one single piece of clear plastic. You'll be able to breathe through your mouth or your nose like you would above the water.
While the difference may seem small, it can affect what you can and cannot do while wearing them. It all comes down to pressure. More pressure and weight are exerted on your body the further down you go in the water. Water is much denser than air, so it doesn't take much depth to feel the effects.
While full face snorkel masks are designed like diving masks, they aren't made to help you regulate pressure. That added force on your face will get uncomfortable and the perimeter seal can be broken.
Goggles* , on the other hand, have a much smaller footprint and hold less air. While both shouldn't be worn in deeper water, goggles are typically better equipped to handle more pressure than masks.
Another noticeable difference is the field of vision. Goggles are made to have a tight fit around the eye sockets, thus limiting your peripheral vision. Masks get rid of that obstacles. You'll have a clear view of your surroundings from virtually every angle. In most cases, masks can make you more aware of your surroundings so that you can stay safe in the water.
Over to You
Full face snorkeling masks are a great investment that offers more freedom and comfort than traditional designs. They come with plenty of safety features to get over common hurdles that snorkeling enthusiasts regularly face. With their large window and plenty of breathing room, you'll have no problem enjoying the view below.