22 October 2020 –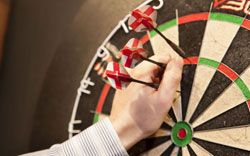 Who doesn't love a game of darts? There's nothing more fun than a friendly competitive game of darts with some friends.
Unfortunately, this usually requires a trip to a seedy bar where the board is either in poor condition or surrounded by a few drunken patrons clamoring for their turn.
To skip that headache, guys can get a dartboard of their own. Whether you are a serious competitor or just a casual player, a dartboard is a great thing to have in your man cave.
While most guys don't realize it, there are a ton of options when it comes to dart boards. Not only are there different makes and models, but there are also different styles.
Depending on your taste, you can opt to go with a modern electronic dartboard or a traditional bristle board. Each of them has their benefits.
Bristle Dartboards
Bristle dartboards hark back to a time of casual playing in a pub. Usually used for tournaments, these boards are best suited for those serious about darts.
Contrary to their name, bristle boards are actually made of sisal or hemp. The sisal fixes itself after a dark hits it, making it a great material for dartboards.
The darts used with bristle boards have a steel tip and a body made from brass or tungsten. They aren't toys by any means. While they may be a bit more dangerous, these darts provide an authentic playing experience..
4 of the Best Bristle Dartboards
1. Winmau Blade 5 Bristle Dartboard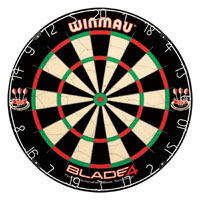 If you want a high quality bristle dartboard, the Winmau Blade 5 is the way to go. It is made of high-quality sisal that is woven incredibly tight. This helps the sisal heal better and ultimately prolongs the life of the board.
It also features some of the thinnest triangular-shaped wire available. This creates a larger scoring area while preventing bounce outs.
The triangular shape guides the dart into the board rather than across the room. It is also free of staples, eliminating the worry of causing damage if they are hit. With a removable score ring allowing you to rotate the board for even wear, this board is sure to last many fun nights.
2. DMI Bandit Staple-free Bristle Dartboard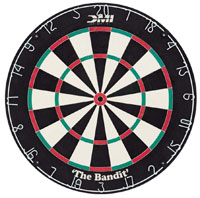 The DMI Bandit Staple-free Bristle Dartboard is officially sanctioned by World Darts Federation. In fact, it's been the official board for the World Cup for well over a decade.
The high-quality sisal is dense and vibrant. The unique thing about this board is the wire spider. Instead of staples, the ultra-thin wire is embedded into the bristles. This provides 10% more playing area and virtually nothing to get in the way of the darts.
It also strengthens the overall board's structure, making it sturdy on any wall.
3. Nodor Supawires 2 Bristle Dartboard
This regulation-sized dartboard is a great choice for any enthusiasts. It is endorsed by the American Dart Organization for its superb quality.
It has East African sisal fibers that are tightly woven to provide great healing. The dividers on this board are incredibly thin and rounded to direct darts into the board.
The staples are thin and rounded as well. The center bullseye is staple-free for clear aiming. It also has a removable number ring and easy mounting hardware to get the board up for playing in no time.
4. Viper Shot King Bristle Dartboard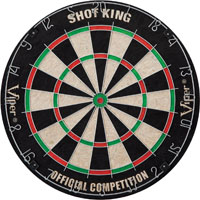 This dartboard is made to withstand a lot of wear and tear. With an official tournament size of 18 inches in diameter and a weight of 13 pounds, the board can handle anything you throw at it.
It is made of densely woven sisal fibers for longevity. The wires are rounded to reduce bounce out.
While there are staples to hold the wire spider down, they are strategically placed and also rounded so that they don't get in the way. The bullseye is staple-free, allowing you to make your shot with no obstacles.
Bristle Dartboards in a Cabinet
1. DMI Sports Bristle Dartboard Cabinet LED Lighting / Electronic Scoring Option
The DMI Sports dartboard combines the best of both worlds. It features a standard-sized bristle board. However, it also provides you with the option to keep your scores electronically.
You're free to set this board up however you like to play. The cabinet, which is available in two beautiful finishes, keeps the board out of sight when not in use. The two swinging doors also act as your mount for the scoreboards.
The unit comes with a traditional chalk scoreboard and an electronic scorekeeping system. You can mount the traditional scoreboard on one swinging door and the electronic system on the other!
The electronic system doesn't record scores automatically. But, it does have a mini dartboard that you can use to dictate where the dart landed.
2. DMI Bristle Dartboard in Oak Finish Cabinet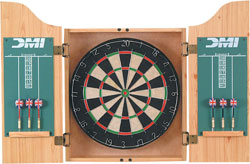 Reminiscent of a classy bar dartboard, the DMI bristle dartboard is a beautiful addition to any game room.
The cabinet is made from an attractive oak. The board has high-quality sisal fibers that are resilient and smooth, even after repeated throws.
The spider grid is held onto the board with minimal staples. Unlike other boards that have staples throughout, this board only has a handful that are carefully spread around the board.
The oak doors house a dart holder and chalkboard score charts.
3. Viper Hudson Collection All-In-One Dart Center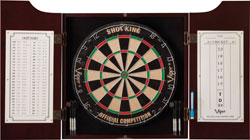 As a higher end option, this bristle dartboard doesn't skimp on the details.
Everything is made from high-quality materials to create a truly handsome and effective board. The cabinet is made from a mahogany stained pine. The cabinet doors are attached with self-closing brushed nickel hinges, providing a unique appearance.
Made from dense sisal, the board is built to last. The board and the scoring ring are removable, allowing you to rotate it for even wear and tear. On one door, a scoring chart is tacked on for easy reference. On the other, a dry erase score chart is present for easy tracking.
Electronic Dartboards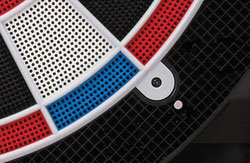 Made for the modern man, these dartboards pack a lot of unique features. They come in a variety of styles and sizes. These boards are a great option for seasoned players and amateurs alike.
Unlike bristle boards that are made from sisal, electronic boards are predominantly plastic. They are covered in tiny holes. Darts will stick in this hole and send a message to the internal computer to calculate your score.
Generally, electronic boards come with plastic tipped darts. They are much safer, yet a lot lighter. Some models come with steel tips to make playing feel a bit more genuine.
5 of the Best Electronic Dartboards
1. Arachnid Cricket Pro 650 Electronic Dartboard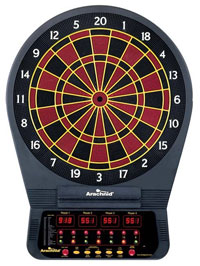 The Arachnid Cricket Pro 650 dartboard is a great party device, as up to 8 people can play at one time. The board itself it made from NylonTough. It is incredibly durable, maintaining its shape through years of playing.
The segment dividers are also very thin and designed to prevent bounce outs.
The board is regulation size and features 24 different built-in games with 132 variations. Not only does the board keep players' score, but it also has a number of other great features, such as prompts and a handicap mode that allows players of different skill levels to compete.
2. Viper 797 Electronic Soft-Tip Dartboard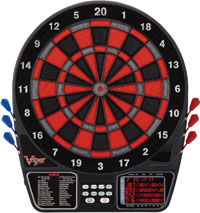 This regulation size electronic board is the ultimate party board. It has 32 built-in games with 171 variations. The LCD screen is large and bright. It keeps the score of up to 16 players while also prompting them of their turn to keep the action moving.
The board is made of commercial-grade nylon and the segment dividers are thin and rounded. The segments themselves are curved inward towards the divider to further guide the darts into the board.
To make things even better, the board features slots to hold the included 6 darts so that you never lose them.
3. Bullshooter by Arachnid E-Bristle Cricketmaxx 3.0 DartBoard in Cabinet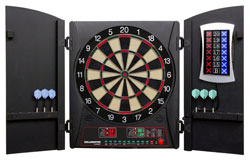 This electronic board is made from a unique material. Instead of plastic segments with tiny holes, the board is made from a unique E-bristle.
This material provides an authentic bristle dartboard playing experience with all of the modern perks of an electronic board. .
The board comes in a beautiful wooden cabinet. The board itself is mounted inside the cabinet, allowing you to hide it from view when it is not in use. While it does include 34 games with 183 variations, the board excels with Cricket. In fact, one of the cabinet doors features a designated Cricket X/O display.
4. Arachnid Bullshooter Marauder 5.0 Electronic Soft Tip Dartboard Cabinet set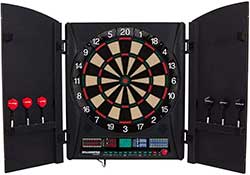 With 38 game modes and 137 options to choose from, you'll never get bored with this unit from Arachnid. It's an electronic dartboard that's housed in a traditional-looking cabinet. The board will fit right in with your game room decor while still giving you the convenience of electronic scoring.
Below the board, you'll see a full backlit LED system. There are four dedicated X/O displays for easy scoring. However, you can also use a numbered scoring system thanks to the large LED display.
Controlling the board is a breeze! Simple push buttons let you set your game mode and parameters. The dartboard also has external speakers to provide audio feedback.
5. Regent-Halex Millennia 1.0 Electronic Dartboard in Wood Cabinet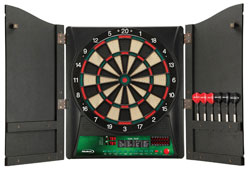 Also built into a gorgeous cabinet, the Regent-Halex Millennia 1.0 electronic dartboard packs in a lot of features for thrilling play.
It has 28 games with 167 variations and two scoring displays, one of which has X/O scoring for Cricket. The board itself it made of durable plastic with dividers designed to prevent bounce out.
The cabinet features dart holders to keep everything in place. The board even has a "Trash Talk" feature to make any heckler put his money where his mouth is.
Alternatives to Bristle and Electronic Dart Boards
Electronic and bristle dartboards are the most prevalent. But, they're not you're only options. There are a few unique alternatives available. Generally, these alternatives are considered lower-grade options than bristles. But, they could be beneficial to you in certain scenarios.
Coiled Paper Dartboards
Coiled paper boards are quite affordable. As you can probably guess, they utilize paper! The paper is cut into thin strips and rolled into a tight coil. These boards operate on the same principles as bristle boards. The dark sticks inside of the coil grooves.
While they are often considered "self-healing" boards, coiled paper units aren't the most durable. Sure, the coiled paper will rebound when you remove the dart. But, there's a trick to avoiding damage. You have to twist the dart as you pull. Otherwise, you run the risk of pulling some paper out with it!
A coiled paper dartboard is a good choice if you're on a budget or have novice players learning how to throw. However, these boards won't last as long as an electronic or bristle dartboard.
Wooden Dartboards
Wood was the material of choice for dartboards several centuries ago. In fact, some historians think that the scoring rings originated from the rings on a wooden tree trunk. Whether or not that's true remains to be seen!
These days, finding wooden dartboards is rare. They still exist, but most players choose to stick with bristle boards instead. Wood boards cannot "heal." So every hit you take is marked on the board forever.
Not only that, but wood boards dry up pretty fast. Most manufacturers use elm, which is softer than other hardwoods. But even elm will toughen up over time. As a result, players have to soak wood boards regularly. This can lead to some odor and mold issues!
Cork Dartboards
Cork boards are another good option for beginners. On the durability scale, fall somewhere between bristle and paper. These boards are covered in a thick layer of corkwood, which is the same stuff used on bulletin boards and wine bottles.
Darts stick to cork very well. But, the material isn't self-healing. Cork degrades over time. The more you play, the more damage the board takes on. Eventually, chunks of cork can start falling off.
Magnetic Dartboards
If you want a safer alternative to traditional dartboards, magnetic units may be for you. Magnetic boards are flat and smooth. The material used to create them is similar to that of a dry erase board or chalkboard.
The thing with magnetic boards is that you can't use traditional darts. Instead, you have to use flat-tipped darts with a magnet on them. The darts perform well enough. But, they don't have the same weight or feel to them. Plus, you have to hit the board just right if you don't want the dart to bounce off or slide down.
Magnetic boards are good in terms of safety. There's no pointed tip, so they are great for kids.
Setting Up Your New Dartboard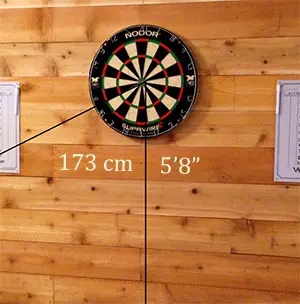 Setting up your dartboard is more complicated than most think! It's not as easy as plopping it on the wall.
To even the playing field, you have to position it perfectly on the wall. Standard dartboard regulations say that the bullseye must be about 68 inches from the floor. That's about 5 feet and 8 inches or 1.73 meters.
You should always measure the height from the bullseye of the dartboard, not the top or bottom.
Once that's done, you have to mark your throw line. The standard distance is about 93.25 inches from the wall. That's about 7 feet and 9.25 inches or 2.37 meters.
There are some exceptions to those positioning rules. Placement may be a bit different based on the type of darts you're using.
That's just some basic setup information. You also have to think about safety and protecting your wall! Check out our full guide here to get some more information about setting up your dartboard.
Best Dartboard Brands to Consider
Finding a dartboard is not difficult. However, finding a high-quality board that's built to professional standards is a different story!
The best way to ensure you're getting a premium board is to stick with established brands. There are a few big-name brands that have a solid reputation for building top-notch boards for professionals and casual players alike. Here are some of the best brands to stick with.
Winmau – Bristle and Electronic
Winmau has been producing dartboards since 1945! The company is based in South Wales. Winmau offers a wide range of dart equipment and has even made official boards for dart organizations in the UK and beyond.
DMI Sports – Bristle
DMI Sports is a US-based manufacturing company. The brand has been around since 1976 and continues to sell affordably priced dartboards. Darting equipment isn't the only thing that DMI Sports sells, but its lineup has made a big impact on the darting world.
Nodor – Bristle
Nodor is one of the oldest dartboard brands. It was established back in 1932 and remains one of the leading dartboard providers. Nodor currently owns Winmau, though the brands are separate.
Viper by GLD Products – Bristle and Electronic
GLD Products has a huge lineup of game room equipment. However, its Viper line goes beyond casual play. Viper darts and boards are available in a wide range of specs, making the brand a favorite among both professionals and casual players.
Arachnid – Electronic
Established in 1975, Arachnid was one of the first mainstream electronic dartboard providers. The brand created commercial boards, which it continues to do today. However, its collection of professional electronic dartboards are widely popular, too.
Regent Sports – Electronic
Regent Sports is an Australian brand that started in 1976. Regent Sports owns and operates several sporting equipment brands. However, the darts collection is one of the most popular. The brand offers several electronic boards as well as darts in a wide variety of specifications.
FAQs
What's the average lifespan of a dartboard?
This all depends on the type of board you have and how often you use it. Electronic boards are capable of lasting for several years with proper maintenance. The main issue you'll have to worry about is damage to the plastic board from hard play.
Bristle boards, while considered the premium choice, have an average lifespan of about three to four years with casual play. Professionals may go through boards every two years with regular use.
How do you know it's time to replace a dartboard?
The biggest telltale sign is problems with the darts sticking! When the darts repeatedly fall out or bounces off the board, it usually means that the board is on its last leg.
What kind of board do professionals use?
Most often, you're going to see professional darters using bristle boards. Bristle boards meet the regulation standards. Plus, they are self-heating and last for a very long time.
Electronic boards are popular among professionals, too. Tournaments with electronic boards exist as well. But, they are not as widespread as bristle units in the professional world.
What kind of dartboard is best?
Bristle boards are considered the cream of the crop. They are durable, self-heal, and offer the best gameplay experience. Coiled paper, wood, and cork boards don't hold a candle to bristle dartboards.
Electronic boards are just as good. But, it's all a matter of personal preference. Electric boards provide the convenience of automatic scorekeeping. However, some say that the playing experience is different.
How big are dartboards?
A standard regulation board is 451mm in diameter. That's equivalent to about 17.75 inches or almost 45.1 centimeters. This measurement refers to the size of the actual dartboard. It does not take into account any framing material or cabinet.
Conclusion
Overall, there are a plethora of great options when it comes to dartboards. Guys should think about how they play and what they need to pick the right one.
Electronic – For some guys, a simple electronic board is all that's needed. These boards have everything you need to spend a few hours competing with friends. The built-in games and score tracking systems make it incredibly easy to pick up and start playing.
Bristle – For more serious players, a bristle dartboard may be the way to go. These boards have only gotten better with time. They are made from high-quality materials to last a lifetime and offer guys the opportunity to play with authentic darts.
Of course, there's always the option of boards in cabinets. These boards can add a level of sophistication and class to any space. Not only that, but they keep the entire experienced contained in one spot. Guys can easily close the cabinet to keep everything in one place. It'll still look great on the wall thanks to the wooden finish.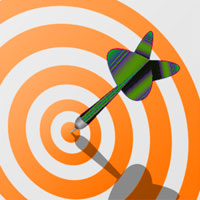 Either way, having your very own dartboard is the way to go. Gone are the days of playing at a bar. Instead, guys can create their very own game room with a dartboard.
It'll provide countless nights of heated competition and fun with friends.