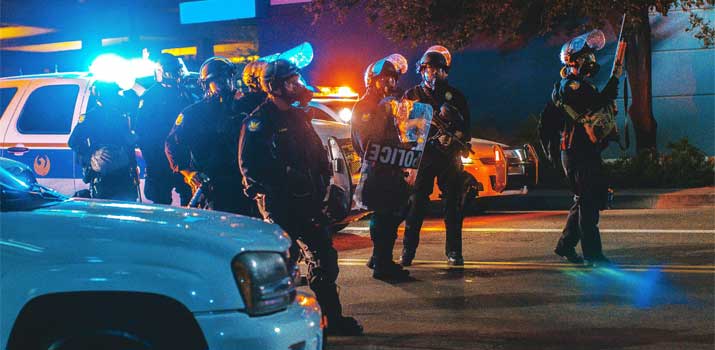 Police officers and law enforcement professionals are the glue that holds society together. They protect and serve, working long hours just to keep the public safe.
As a law enforcement official, you're probably issued a ton of gear to keep you safe while helping you do your job efficiently. However, footwear is often not a part of that standard-issue equipment package.
Tactical boots are the go-to choice for anyone that works in law enforcement. They're designed to meet all of the unique challenges you face on a day-to-day basis.
Whether you're on patrol and treading through inclement weather conditions or you're chasing down a perp through unknown terrain, the last thing you want to be thinking about is how uncomfortable or impractical your boots are.
To do your job, you're going to need a pair of high-quality tactical boots that can handle whatever the day throws at you. There are many options on the market. While good budget options do exist, most are not going to do you any favors while you're serving the public.
To find the right pair of tactical boots, you need to look beyond price and consider comfort, performance, and protective features. Here's a selection of nine tactical boots that you should take a look at.
Best Tactical Work Boots for Police Work
The Acadia boots from Danner are built to be tough. They're made out of full-grain leather and strong Cordura fabric. On the bottom, the boots have Vibram outsoles. They're quite thick and feature large lugs to help you get around any terrain.
The boots are entirely waterproof to keep you comfortable. Thick reinforced stitching is also used for lasting durability.
Built within the outsole, there's a fiberglass shank. This helps to reduce twisting while providing you with some additional support as you walk.
---
The Under Armour tactical boots have uppers made of synthetic leather and fabric. Surrounding the entire perimeter of the boots, an abrasion-resistant film is applied. This keeps your feet protected as you run through tough terrain and heavy brush.
The boots feature a rounded outsole, similar to what you'd find on sports sneakers. This design helps to improve your performance in fast-paced situations.
Inside, the boots have cushioned landings, a TPU shank for stability, and a molded Ortholite lining for added comfort.
---
The high-top boots from Bates feature leather and fabric uppers. The shaft measures approximately 8 inches from the arch, providing ample ankle and calf protection. Laces are used to provide a custom fit all the way up.
However, a side zipper is also included, helping you put the boots on in a matter of seconds. A removable insole adds comfort. There's also a breathable lining to keep the sweat at bay.
The boots feature a slip-resistant outsole made of thick rubber as w
---
While these Magnum boots may look simple, they're very effective for police work. A memory foam sock liner and an EVA midsole are used to keep you comfortable.
The rubber sole is thick and durable. It has deep treads for better traction as well as a composite shank for stability. The uppers are made out of textured leather.
The full lace system makes it easy to get a custom fit. However, a side zipper is also added for speed. The zipper is durable and features a protective strap to keep it in place.
---
Another option from Bates, the Enforcer boots is built with enhanced performance in mind. The rubber outsole features a unique tread pattern. It's slip-resistant and capable of providing you with a better grip on virtually any surface.
The heel portion is very thick, helping to absorb shock as you move. There's also an EVA midsole and removable insert.
The inside of the boots is covered with a moisture-wicking lining to help you stay cool as well.
---
These tactical boot from Under Armor are sleek and minimalistic. The most noticeable feature they have is the unique rounded outsole. It doesn't have a molded arch.
Instead, the entire sole is covered in thick lugs and features a rounded tip to help you take off when you need to start running. Within the rubber material, a TPU shank is included. It provides torsional support and comfort no matter what your job has you doing.
The boots also feature an antimicrobial lining, leather uppers, and a high shaft.
---
If you're looking for a pair of boots that can serve you well in dry outdoor environments, consider this option from Garmont. Rather than a staunch black facade, these boots feature a desert color scheme.
They're made out durable suede and have a flexible rubber sole. Breathable panels are located throughout the exterior, ensuring that your feet stay dry as you work.
The boots are designed to fit the contours of your foot effortlessly. As a result, they feel natural and ready for anything.
---
Made for all-weather terrain, the tactical boots from Maelstrom are great for law enforcement. The uppers are made out of leather and nylon. They're fully insulated and feature a waterproof design.
The tread design on the outsoles is very aggressive. Thick lugs make it easy to get through rocks, slick concrete, and anything else the job throws at you.
When it comes to comfort, the boots are great. They have a three-sole system comprised of a rubber outsole, flexible EVA midsole, and a removable insole.
---
9. Smith & Wesson Men's Breach 2.0 Tactical Size Zip Boots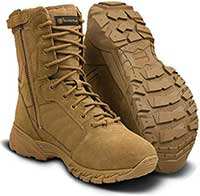 The Smith and Wesson Breach boots are very tough. Leather and nylon are used on the exterior, keeping you safe from abrasive damage. The uppers are attached to thick rubber outsoles.
They're slip-resistant and capable of keeping you stable in many environments. A steel shank is built in for torsional rigidity.
A lacing system extends up to the shaft, which goes far beyond your ankles. There's also a zipper on the side to slip these boots on quickly.
---
What Makes Tactical Boots Different?
Tactical boots are not like your standard work boots. They're heavy-duty boots that are designed with durability and performance in mind. These boots are used by police officers, firefighters, and military personnel because they allow you to do your job freely without limitation.
One of the first things you'll notice during your search is the overall look of tactical boots. They have a very militant appearance to them, and with good reason.
As the name would imply, tactical boots are built to let you perform strategic physical maneuvers easily. Standard work boots are often weighty, have integrated protective panels, and contain thick soles for walking through a dangerous work site.
While those features are great for construction, they are not ideal for the type of work law enforcement officials have to do. When you head out for work, you won't know what your day will entail.
You could be spending long hours on your feet, responding to emergency calls, or running at fast speeds. Your boots need to be able to handle all of those situations and then some.
The whole purpose of tactile boots is to keep you agile, comfortable, and ready for anything. Law enforcement is a dangerous job, so having footwear that lets you act quickly on your feet is key.
Features to Look For
Finding a pair of boots that can cover all of your basis isn't easy. The nature of the job and the unknowns that come with it make it hard to prepare for what's to come.
To ensure that your tactical boots can help you out during every call, here are some things to look out for.
Ample Traction
Chances are, there's going to be a time when you're going to need to run over unpredictable terrain. One slip could result in a painful fall or problems completing your mission.
Tactical boots often have tough outsoles that are designed to give you as much traction as possible on any terrain.
Thick lugs are great for a wide range of surfaces. They can grip onto the earth over uneven terrain, provide stability on smooth surfaces, and prevent falls on slippery floors.
Support and Comfort
Comfort should be a top priority when you're searching for tactical boots. Law enforcement officials typically spend several hours on their feet.
Uncomfortable shoes will only make it harder to do your job. Not only that, but standing for long periods of time can cause lasting effects on your body that stay with you long after you're done for the day.
Keep an eye out for boots with plenty of comfort features. Underfoot support is the most important. Contoured footbeds made out of soft foam can support your arch with every step.
They can also absorb the force of impact, ensuring that the shock from hard concrete doesn't travel up your leg and cause pain.
Another thing to consider is the weight of the boots.
Heavy boots, while solid, can become cumbersome after only a couple of hours. Plus, they can slow you down in an emergency situation. To keep things as comfortable as possible, go with a lightweight option that lets you stay quick on your feet.
Weather Protection
No one can control the elements, so you'll need boots that can keep you protected at all times. Waterproof boots are highly recommended. They provide a tight seal that prevents water from getting in whenever you have to wade through wet environments.
While it may not seem like a huge deal, the lack of water penetration can help you avoid chaffing, coming down with a cold, unwanted odor, and athlete's foot.
For those hot summer days, ventilation can keep you comfortable. Because tactical boots often extend over the ankles, your feet can get pretty hot. A breathable design will ensure that air can circulate throughout the boot as you work.
Personalized Fit
The fit of your boots affects their overall comfort and performance capabilities. Loose-fitting shoes are can be very dangerous. To get a fit that's right for you, look out for boots that feature a full lace system.
Laces that go all the way up the boot make it easy to get a comfortable fit that helps your performance rather than hinders it.
Durable Build
Last, but least, you should consider durability. Tactical boots are a sizable investment, so you'll want them to last. Look out for high-quality materials that can withstand years of use.
Leather, thick nylon, and suede are all great options. Also, pay attention to build quality. Reinforced stitching ensures that the boots won't fall apart the moment they're subjected to some wear and tear.
Conclusion
Tactical boots can do a lot to help you out on the job. Law enforcement is a dangerous and challenging profession. Having the right equipment can make all the difference.
By investing in a solid pair of tactical boots, you can do your job without having to worry about discomfort or performance issues.