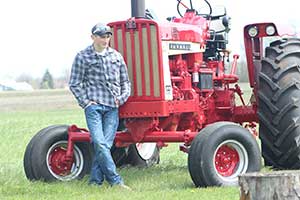 Farmers and ranchers are some of the hardest working people out there. It's not all sunshine and moderate temperatures like the movies would have many people believe.
These workers typically spend upwards of 12 hours a day on their feet, regardless of what the temperature outside is like. Needless to say, proper footwear is important.
If you're a farmer or ranch worker, you're going to need solid work boots that can put up with everything your job throws at it. Your boots need to be tough enough to keep you protected, yet comfortable enough to reduce fatigue after a long day of work.
Luckily, the footwear industry has gone a long way in recent decades, resulting in plenty of great boots to choose from. However, you need to choose carefully. The quality of your boots can mean the difference between relaxing after work and treating foot injuries.
To help you narrow down your options, here are some of the best farm work boots that can serve you well on the job.
5 of the Best Farm Work Boots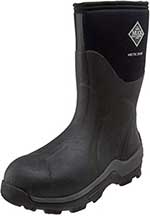 These boots are great for snow and mud. They're made out of a combination of synthetic neoprene and rubber.
The rubber portion is molded as a single shell. It covers the entire foot and extends beyond the ankle. The lack of seams makes these boots entirely waterproof. There are even traction lugs on the sole to help you get around challenging environments.
Inside, the boots have a contoured midsole, fleece lining, and thermal footbed to keep you cozy and warm as you work.
---
Whether you're working in the mud or out on the dry terrain,the Workhog boots from Ariat can keep you protected. They have full-grain leather outsoles with some western-inspired embroidery.
The 10-inch shafts feature two durable pulls on both sides to make slipping these boots on a breeze. Slip and oil-resistant outsoles are used. They're attached with single welt construction and feature a higher heel.
This design provides more support and puts your foot in the optimal position to prevent fatigue.
---
With their classic cowboy look, these boots from Justin Boots will fit right in on the farm. The uppers are made out of 100 percent leather. They measure approximately 10 inches from the arch for ultimate protection.
You won't find any laces on these boots. They have a slip-on design that's easy to put on and take off. The soles are made out of a single piece of molded rubber.
A single welt stitch it used to attach the uppers to the outsoles. This construction method makes the boots very durable in any environment.
---
Need a pair of boots that provides a bit more ankle flexibility? Check out these boots from Keen. The Nubuck leather uppers cover the ankle without limiting movement.
The boots feature an innovative rubber sole design. It has a thick arch section to provide all-day comfort and a rigid shaft for torsional support. There are also thick lugs for better traction.
The lining inside provides some extra benefits. It's breathable to help you stay cool and dry. However, it also sealed off from the elements, allowing you to walk in wet environments without any issues.
---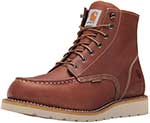 These Carhartt work boots are a modern take on the classic boot design. They have stylish leather uppers covered in 100 percent leather. The leather is polished and treated to provide you with water protection.
The shaft is moderate, measuring about 6.5 inches from the arch. A full lace system is included, making it easy to get a tight fit. The outsoles are made out of rubber and feature a simple treat design.
The unique thing about these boots is the heel. It's slightly raised. However, the entire outsole is flat for great ground contact.
---
What Makes a Good Farm and Ranch Work Boot?
When it comes to work boots, price doesn't always dictate quality. You can get great work boots on a budget just as easily as you can find expensive options with inferior materials.
The trick to finding a pair that's right for you is to examine each detail closely and determine if it's suitable for life on the farm or ranch.
Material
The material of your work boots plays an important role in their overall protection and comfort. The material used for the uppers is often the first line of defense against hazards. Manufacturers utilize a number of different materials. Here are the most common used for farm and ranch environments.
Leather
Leather is a tried and true material that has been used for boots and shoes for centuries. It's very durable and has a number of benefits you can't find with other options.
For one, leather is quite thick. This makes it resistant to cuts, punctures, and abrasive damage. When it's properly cared for, leather work boots can last for many years.
Secondly, leather can be treated to be waterproof. Even if it's not, the thickness of leather causes moisture to seep in slowly, not instantly like it would with other fabrics. Finally, leather is flexible enough to keep you comfortable.
You may have to break the leather, but once that task is done, your boots will conform to your feet.
Rubber
Rubber is an excellent choice for farmers and ranchers because of its exceptional waterproofing capabilities. The material is non-porous. Furthermore, many manufacturers mold these boots without any seams, so you don't have to worry about water getting in.
When you're trudging through mud or dealing with harsh chemicals, you'll be thankful that you don't have to worry about wet socks. Depending on the thickness of the rubber, the material can provide great protection from hazards as well.
Solid Construction
The materials used on a pair of work boots are only effective if they stay together. Keep an eye out for solidly built boots. One area you should pay close attention to is the sole.
Manufacturers use a few different methods to attach the uppers to the soles. These include standard stitching, welt stitching, and cement.
Welt construction is usually the most reliable. Depending on the design, you may even be able to replace the soles when they get worn down without having to buy a new pair of boots.
Hazard Protection
While many people don't realize it, farmers are exposed to a lot of dangerous hazards throughout the day. Not only do you have to worry about the dangers of the terrain, but there's also heavy machinery and wild animals you have to think about.
To stay safe, you need extra protective measures in your work boots.
Steel Caps and Puncture Plates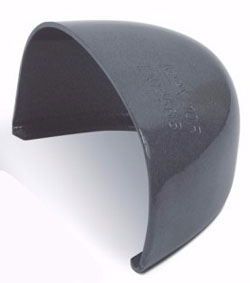 Toe caps and puncture plates are a must-have. Steel toe caps are very common in work boots. Heavy-duty steel is built right into the boot. The caps are designed to protect your toes from falling objects, heavy machinery that could crush your foot, and much more.
Puncture plates protect the bottom of your feet. They can prevent nails, glass, and other sharp objects from piercing through the outsole and into your foot.
High Uppers
The uppers refer to the shaft of the boot that goes over your ankle. Boots with higher uppers offer the most protection from unexpected surprises.
If you have to walk through thick brush, the uppers will prevent cuts and scratches on your leg. If you come across a snake or other dangerous creature, thick uppers can prevent a bite from making contact with your skin.
A Barrier to the Elements
When you work on a farm or ranch, the work doesn't stop just because the weather turns sour. You need to be prepared to work in any environment.
Waterproofing
A waterproof design is very important in this line of work. Water is plentiful, resulting in thick mud and grime. In a traditional shoe or boot, water will seep in each time you wade through the mud.
Not only is this uncomfortable, but it can lead to severe chafing and blisters. If you're working in a cold environment, it can even make you sick.
Waterproof boots can be made out of leather or rubber. Typically, they feature solid construction methods and sealed seams that prevent moisture penetration.
Slip Resistant Soles
Another feature to look out for is a slip-resistant sole. Many work boots feature a tread design that's capable of redirecting water away from key pressure points on your foot. They're often characterized by thick lugs and water channels. These boots can keep you stable, preventing slip and fall accidents.
Comfort
When you're on your feet all day, comfort is key. It's not just a matter of preventing temporary discomfort, but also long-term damage. Poor support and a lack of shock absorption can create lasting issues that affect your health for many years to come.
Insoles
Insoles are a great way to ensure that your feet are comfortable at all times. Many boots have removable insoles that can be cleaned and replaced. Alternatively, you can invest in separate insoles that work for your unique needs.
Either way, insoles support the contours of your foot and work to absorb the force of impact with every step. They're usually made out of gel, padding, memory foam, or EVA.
Arch Support
The arch in your foot can have a direct effect on the rest of your body. A lack of support will cause pressure to travel up your leg and back. It can also lead to serious issues like Plantar Fasciitis.
When you're looking for the right pair of work boots, go for an option that has a thick midsole that's contoured. They'll keep your arches in good shape for lasting comfort.
Lining
Boots are available with a number of different linings. You can choose one that works for your climate. If you're in a cold area, you can get boots with an insulating lining.
In hotter environments, breathable linings can improve air circulation to keep you cool. Anti-microbial options are also available to prevent fungus and odors.
Conclusion
Before you get on the farm for work, it's crucial that you invest in a solid pair of work boots to keep you safe. These boots will provide lasting protection and comfort through those long hours.
Also Read: Best Work Boots,… Buyers Guide for all Occupations