Snake Bites
Whether you are trekking through the woods to explore or working outside in a rural area, foot protection is a necessity. Not only do proper boots protect your feet from standard injuries and obstacles, but they protect the feet from something a bit more lively.
Snakes are a very real threat in wooded and natural areas. Depending on where you live, a variety of snake species may be lurking just outside. While most snake bites aren't fatal, some species can deliver a lethal dose of venom. Upwards of 8,000 people are bitten by venomous snakes every year according to the Centers for Disease Control and Prevention. Even nonvenomous snakes are known to attack humans when feeling threatened, leaving behind a pretty nasty and painful bite.
Proper Protection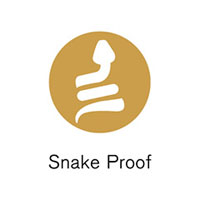 The best way to avoid a potentially painful surprise is by wearing snake proof boots. While you may think that the simple answer is to avoid snakes, it's not always that easy. In most cases, snakes are hidden from plain view thanks to some camouflage and their natural habitat. Bites usually occur before the snake is even seen due to stepping to close.
Proper protection and preparation are key. With some snake proof boots, the most vulnerable parts of your body are covered. The thick material prevents fangs from penetrating the boot. A variety of different options are available. With many having additional features, these boots won't be a nuisance to wear. Here are the top 10 snake proof boots available today.
Top 10 Best Snake Proof Boots
1. LaCrosse Men's Venom Scent APG HD Snake Boot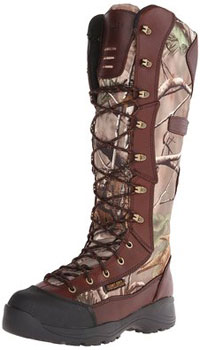 These boots from Lacrosse are the real deal. Made from thick leather and fabric, they'll keep you safe should you ever stumble across a snake.
The 18-inch shaft covers a large portion of your leg, yet provides enough flexibility to be comfortable. The boots also lace up all the way from the toe, providing a snug and comfortable fit.There's a side zipper to make quick work of removal.
In addition to being snake-proof, these boots have Hyper-Dri technology to keep your feet dry. There's also antimicrobial fibers in the liner of the boot to keep the smells at bay. With a camouflage design, the boots will work well in both work and hunting environments.
——————————————————————————————————————————–
2. LaCrosse Men's Adder Scent 18″ HD Snake Boot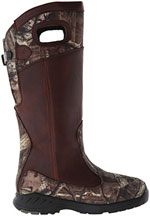 If you're looking for great protection in a boot that is easy to slip on and off, the Adder Scent 18″ snake boots are a great option. They provide great protection from unwanted snake bites, much like LaCrosse's previous model. However, these boots feature no laces. Instead, the boots are pulled on.
Large pulls on the 18-inch shaft make it a breeze to put on. The opening of the boot measures roughly 17 inches around. However, a tightening strap is placed behind the calf to ensure a tight fit.
The boots are made of predominantly leather for protection with camouflaged fabric all around. The unique fabric lets moisture escape to keep the feet dry, but is waterproof to keep water out.
——————————————————————————————————————————–
3. Rocky ProLight 16″ Snake Proof Boot
Made of leather and fabric, the Rocky Prolight snake boots provide ample protection in wooded areas. The fabric features a camouflage print with leaves, twigs, and wood. The camouflage will help to mask your appearance, making the boots a great choice for avid hunters.
The shaft measures 16 inches and has lacing going all the way to the top, allowing you to get a comfortable fit. One of the great things about this boot is its light weight. While it is thick enough to protect from painful bites, it's light enough for quick movement. If you're out on a hunt, these boots will prove to be beneficial in your hunting game while providing you with some much-needed protection.
——————————————————————————————————————————–
4. MuckBoots Men's Pursuit Snake Proof Hunting Boot
Another boot designed with hunting in mind, the Muckboot's Pursuit snake proof hunting boot is flexible and comfortable enough for trekking through the woods.
Unlike other options, these boots aren't made from leather and fabric. Instead, the outer shell is made from synthetic rubber. This rubber has been tested against snakes for your peace of mind. The soles are made from rubber and are designed to provide traction.
Inside the boot is a flexible foam neoprene layer for warmth and XPressCool technology to quickly evaporate sweat. An anti-friction liner is also included for more comfort. The boots are slip-on and have a camouflage print.
——————————————————————————————————————————–
5. Danner Men's Pronghorn Snake Side-Zip Hunting Boot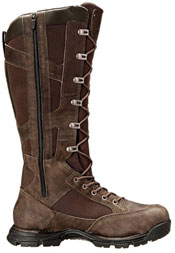 This hunting boot from Danner is carefully designed with great attention to detail. It is a bit pricier than other options, but it has a lot of great features. The boots are made from leather, which covers the toe and heal completely. It also has breathable fabric that is waterproof.
The Gore-Tex liner is designed to wick away moisture and keep the feet dry throughout a hunt. The outsole is made from rubber compounds. It is designed to work great in a variety of conditions, from wet mud to thick brush.
The shoe has a rugged construction that can protect from bites while also improving your ability to get through the wilderness.
——————————————————————————————————————————–
6. Danner Men's Jackal II 45764 Hunting Boot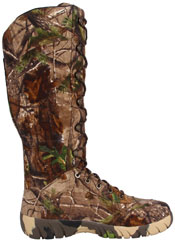 The Jackal II by Danner is a hunting boot designed for stealth. This is great for hunting prey and not disturbing any hidden snakes. Should you disturb a snake, the boot has a nylon upper shaft that is 17 inches tall. This nylon material is extremely resistant to damage, water, and snakes.
Like other Danner boots, these boots incorporate Gore-Tex technology to keep your feet dry. The unique sole, which has a camouflage print to match the rest of the boot, is light and designed to be quiet. However, it also provides ample traction to move fast. The boots are a great option for hunters that want to stalk their game while staying safe.
——————————————————————————————————————————–
7. Chippewa Men's 
18″ Square Toe Pull On 25115 Snake Boot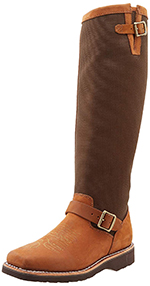 Not designed with a specific purpose in mind, these snake boots from Chippewa are great for many different uses. They can be used for work or casual wear. With thick leather wrapping the entire foot, it's great against snake bites.
The leather is also present under the 17-inch safety shaft. The combination of leather and viper cloth fabric provides great protection while looking great. They don't have laces, but rather two adjustable straps at the top of the shaft and around the ankle. The boots slip on easily and can be tightened for a snug fit. The boots are made with high-quality materials and are constructed to be rugged, regardless of its use.
——————————————————————————————————————————–
8. LaCrosse Men's Alpha Mudlite Snake Hunting Boot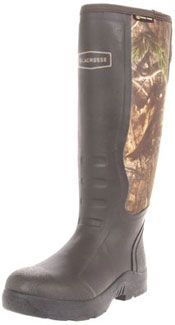 These boots from LaCrosse are made for walking through mud and grime. They feature a hand-crafted rubber over the majority of the exterior. This rubber is tough, resisting everything from mud and scratches to sharp snake fangs.
Underneath the rubber is a layer of neoprene, which insulates the foot to keep it warm and dry. LaCrosse also uses their AirCirc technology to move air throughout the boot with every step that is taken.
The boots are in a slip-on design and feature accents of camouflage fabric. An adjustable strap behind the calf ensures a comfortable fit. For even more comfort, the ankle is contoured and shaped. This prevents loosening and unwanted friction.
——————————————————————————————————————————–
9. LaCrosse Men's Coil Scent APG HD Snake Boot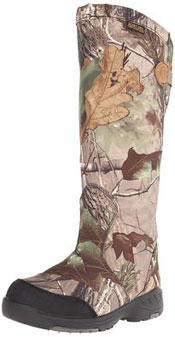 From LaCrosse is another great option for hunting and exploring areas with tall grass. These boots have an 18-inch shaft that is made from 1000-denier nylon and fabric. This combination works together to create a tough barrier between your skin and an angry snake.
Despite the thick outer shell, these boots are flexible enough to quickly maneuver through the bush. The lining inside is both comfortable and functional. It wicks away sweat for quick evaporation and prevents bacteria and smells.
The entire boot is also waterproof, ensuring that your feet stay dry. The boots are designed for easy removal. They have a side zipper and adjustable strap to create a custom fit.
——————————————————————————————————————————–
10. Justin Original Work Boots Men's Stampede Snake Work Boot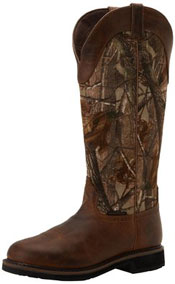 Designed for rugged work outdoors, these boots from Justin Original Work are resilient and comfortable. They are made predominantly from leather, snake proof fabric, and synthetic rubber. Leather covers the entire foot and extends up the shaft. The rest it is covered in a fabric that protects the legs from snake bites.
The sole is made from rubber and is designed for traction in variable conditions. Overall, the boots are sturdy, yet flexible. Flexible points throughout the boots make them comfortable for everyday wear. The insoles are dense and comfortable. They can also be removed for cleaning. They have a side zipper and leather strap that can be tightened. It comes in solid tan or with camouflage accents.
——————————————————————————————————————————–

——————————————————————————————————————————–
Proper Coverage
One of the biggest things to consider when purchasing some snake proof boots is how much coverage they provide. Usually, snakes are encountered by accident on the ground, hidden in the terrain. They'll usually strike the foot or lower leg.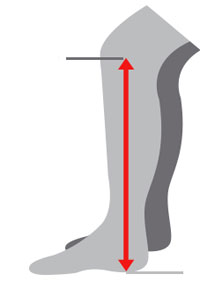 Choosing a boot with a high shaft that extends well above the ankle is ideal. Standard snake proof boots usually come in heights anywhere from 16 to 18 inches. That being said, some snakes can strike higher. It's a good idea to be informed about the snakes in the area you are hunting or working in to get a better idea of what you'll need for protection.
Higher boots and snake chaps are available if you need a bit of extra protection.
Snake Bite Proof Materials
There are a number of materials used in snake proof boots. In most cases, manufacturers will use a combination of materials to ensure that you are properly protected. Some of the most common materials include:
Synthetic weaves
Leather
Cordura nylon
Kevlar
denim
These materials make it difficult for fangs to penetrate, saving your leg from a bite. Fabrics, such as synthetic material and nylon, are woven very tightly, creating a dense and stiff fabric. Other materials simply act as a shell that is impenetrable. Many manufacturers use these materials in specific parts of the foot to improve comfort and protection. You'll want to choose materials that are tough and impenetrable.
Comfortable Fit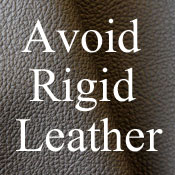 While the material that prevents snakes from biting your skin is important, so is the comfort. It's important to choose a comfortable boot, as you'll no undoubtedly be wearing them for long periods of time. It's a good idea to choose a pair of boots that you won't want to take off.
Some boots are incredibly rigid. This is great for protection, but not so much for comfort. Others are specially designed to provide maximum comfort. They'll have flexible points throughout the boot and maybe be contoured to provide a snug fit. Boots should be tested for comfort prior to taking them out for use.
Closures
The way a boot closes can have a huge effect on how comfortable it is and how it will perform. Zippers are a common type of closure that is quick and easy to use. However, zippers can get caught on brush and twigs. They are also prone to breaking and don't usually provide a perfect fit.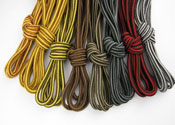 Slip-on boots are another alternative that is easy to put on. Their lack of zippers or laces ensures that they don't snag. However, they can be quite uncomfortable and fit horribly if not chosen correctly. Lace closures provide the most custom fit. Laces usually start at the foot and go all the way up the shaft of the boot. However, laces can be cumbersome.
Many manufacturers use a combination of closures. Often times, Velcro straps are used to provide a better fit on boots with zippers and slip-ons. The type of environment they'll be used in and how they fit should be considered when choosing the right closure.
Air Circulation
Often overlooked, air circulation is an important thing to consider. Boots are notorious for making the feet sweat, eventually leading to some bad smells. Many snake proof boots incorporate breathable fabrics to keep the feet cool. Others have linings that will wick away sweat and allow it to evaporate. Of course, it's important to choose boots with a breathable fabric that is also waterproof. Different types of technology are available that keeps water out while allowing air to go in. A breathable boot is a comfortable boot that stays clean and ready for action.