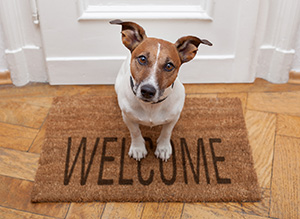 What's a better addition to your man cave than man's best friend? Your canine companion can keep you company as you relax while enjoying the space all on their own.
If you're planning on creating a new man cave, you should keep your dog's unique needs in mind.
Your man cave can become a shared sanctuary for you and your dog with just a bit of careful planning. There are many ways to implement features that accommodate your furry friend without sacrificing your personal style and needs.
With the right materials, furniture, and layout, your dog will be begging to hang out in the space. Here are a few ways to make your space comfortable and safe for you and your pooch.
Choose Flooring That Lasts
Chances are, the floors in your man cave will take a beating. Between heavy traffic areas around a pool table and the light scraping of your dog's nails, you need to choose flooring that can withstand the constant abuse.
While you can certainly keep your pooch's nails trimmed to avoid scratches, it's best to go with a material that won't be damaged by a running dog.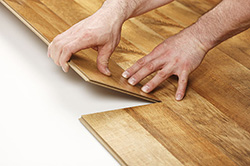 Laminate floors, stone, concrete, and tile are all great options. They aren't easily damaged by scratches and are pretty easy to clean up if your dog has an accident.
Alternatively, you can go with dog-friendly carpets
Darker tones can mask hair and dampen sound. One great alternative to traditional carpeting is carpet tiles. They have the comfort and look of normal carpeting, but can be removed and replaced with ease if it gets damaged.
Whatever you decide to go with, just make sure that the material is durable and easy to clean. Hard floors should be able to withstand constant abrasion while carpets should be washable. The same rules should apply to any rugs that you may want to use throughout your space.
Prepare for Messes
Regardless of how well-behaved your pup is, messes are likely to occur. To ensure that messes don't throw off the vibe in your man cave or create distracting smells, you need to be prepared for the worst. This includes choosing appropriate furniture material and having cleaning supplies on hand at all times.
Dog-Proof Fabrics
When it comes to sofas or lounge chairs, it's good to go with thick and durable materials like denim, canvas, Crypton, or synthetic fabrics. Not only do they prevent rips and snags from claws, but they can hold up well to the occasional stain. Some fabrics like Crypton resist stains and odors altogether. Go with something that's easy to clean and take care of.
If you're not one to clean up hair on a regular basis, go with a color that blends in with your dog's fur. Darker fabrics can help mask stray black or brown hairs while beige and gray fabrics can blend in with white fur.
One thing you don't want to do is invest in furniture that's the opposite color of your dog. A black sofa with a white pup will only make loose fur more noticeable.
Slick and Stylish Paint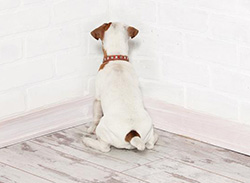 Another way to prepare for messes is to protect your walls from staining. Whether it's slobber or flying food, it's not uncommon for dogs to make messes on the lower half of walls.
To handle these messes before they occur, paint your walls in a finish that's easy to keep clean.
Semi or high-gloss paints create an effective barrier on the wall. They are slick to the touch and can be wiped down or washed with a cloth.
Quick Cleaners
Having cleaning supplies stashed somewhere in your man cave can ensure that stains are handled quickly and efficiently. Stain remover can make quick work of spills with a simple spritz while strong vacuum cleaners can get rid of fur on the carpet or furniture before your friends come over.
To further protect your furniture from messes, look into washable fabric covers that create a barrier between your dog and the couch.
[divider style="solid" top="20″ bottom="20″]

Provide All the Creature Comforts
One of the most important things to consider is how your dog sees your new man cave. They need to feel safe and comfortable to truly enjoy it. There are a number of ways to make your dog feel safe in this new environment. You should provide them with all the basics they need to relax.
Sun and Air
Make sure that your dog has plenty of access to sunlight. One of the best ways to do this is to provide your pup with a clear view of a window. Dogs love to stare outside a window and watch the world go by. Providing them with a comfortable dog bed to lay in is also recommended.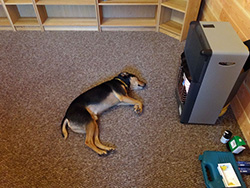 Dogs should also have access to freshly circulated air. Keep air conditioning vents clear so that your dog can get closer if they feel the need to adjust their temperature.
Whether your air vent is on the floor or on the ceiling, make sure that there's a way for your dog to feel the circulation so that they can stay comfortable.
Room to Roam
It's also recommended that you provide your dog with plenty of room to play. An open area free of furniture will be their go-to spot for having fun. This area doesn't have to be huge, but big enough for your dog to sit down with a chew toy.
It's important to also create a layout that's safe and easy to navigate. An over-cluttered man cave will make it hard for your dog to relax or play. Make sure that there's plenty of room around furniture pieces to walk safely.
To ensure that your dog doesn't experience any injuries, stay away from low tables with sharp corners. Additionally, it's good to keep valuable and anything chewable locked away.
Security
While your dog may not always enjoy a gate or fence, it's necessary to keep them safe and comfortable. Make sure to invest in high-quality fences that can keep your pooch away from potentially dangerous areas. A small gate on the doorway can keep your dog secured without making the room feel small or confined.
These basic comforts can make all the difference in how your dog perceives the space. With all the comforts they're used to, they'll enjoy coming into your man cave.
Create a Designated Dog Area
Another way to make your dog feel comfortable and welcome is to have a designated pet station filled with all the essentials. Placing this area near the entrance of your man cave can ensure that's it's always accessible. This pet station should have all the toys and treats they'll need.
Food and Water
One of the most important things to provide your pet with is food and water. Even if it's not their normal feeding area, having food and water on hand will make them feel at home. If you already have a feeding area in your kitchen, you can supply a fresh bowl of water and treats to hold them over until dinner time.
Toys
Heavily-used toys should be available to your dog while they're in your man cave. While you may be focused on the television screen, they need something else to stay occupied. A simple cabinet or box will keep everything contained and within reach. You could even incorporate built-in storage into your design for a more cohesive and discrete look.
If your dog spends a lot of time in the space, having their walking leash near the entrance is also a good idea. It can help build proper habits while keeping everything nearby.
Utilize Furniture Made for Dogs
If your dog plans on spending a lot of time in your man cave, why not provide them with furniture pieces that are specifically made for dogs? There are a number of great option out there to make your pooch feel more comfortable in your man cave.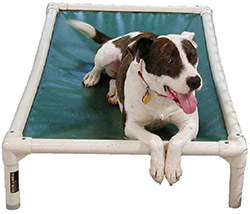 One of the easiest pieces to find is a raised dog bed. There are many great designs on the market that rival full-sized human beds. These unique furniture pieces allow you to create a designated lounging space for your dog without sacrificing your personal style.
They can keep your dog off your sofa while still giving them something plush to sleep on. Make sure to measure your dog and get a bed that they can stretch out on.
Other items you can get for your dog include gates, doors, feeders, and much more. Unique gates and doggy doors can help keep your dog safe while adding to the overall design of your space. Automatic feeders and fountains can make treat time fun while keeping your dog entertained as you relax.
Conclusion
Your dog is part of the family, so why not share your man cave? By creating a safe and comfortable space for your dog, you both can have fun and relax. Hardy materials and plenty of cleaning supplies will also ensure that your space stays pristine.
You don't have to sacrifice your needs to make your man cave accessible to your dog. All it takes is a bit of extra planning and creativity to create a room you'll both enjoy
[divider style="solid" top="20″ bottom="20″]