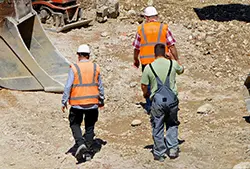 If you're a construction worker, you understand the toll that a long day at work can take on your body. It's a physically grueling job that's surrounded by a bevy of hazards.
You have to deal with heavy machinery, slippery floors, heights, worksite debris, and so much more. There are hundreds of construction injuries each year.
To ensure that you can clock out unscathed, it's imperative that you invest in the proper safety gear.
One of the most important components of your work uniform is your boots. Work boots that are specifically designed for construction workers have many features that can keep you safe. They're unique to standard boots because they're made from high-quality materials that can withstand the rigors of daily wear.
Best of all, you can choose boots that have the features that are most important to you. Whether you typically deal with framing walls at incredible heights or you mostly work with concrete, you'll have no problem finding boots that are built to suit your work environment.
To help you in your search for those perfect boots, here's a list of some of the best options that were built with construction workers in mind.
7 of the Best Work Boots for Construction Workers
1. Timberland PRO Men's 6″ Pit Boss Steel Toe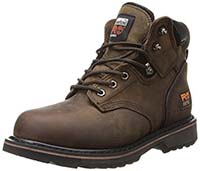 Timberland is a name that's synonymous with quality, and with good reason. These boots are full of safety features.
The uppers are made from thick nubuck leather. The soles are made from a unique rubber. It's heat-resistant, slip-resistant, and highly durable. Goodyear welt construction is used to attach the two components, making the final product very strong.
Inside, you'll find a polyurethane midsole that can provide you with all the support you need. There's also a nylon shock-diffusion plate built into the sole. It can provide you with even more support and comfort as you work.
2. Caterpillar Men's Diagnostic Waterproof Steel-Toe Work Boot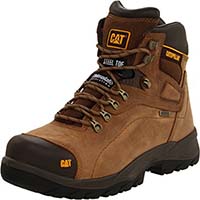 These boots from Caterpillar are completely waterproof, allowing you to work in wet environments with no problem. The interior of the boots is also lined with 200-gram Thinsulate.
This unique insulation will ensure that your feet aren't affected by cold weather. For comfort and support, the manufacturers included an EVA foam insert. It has gel technology and can be removed for easy cleaning.
The uppers are made of leather and rise above the ankles. A steel toe cap is built right in for safety. Rubber is used for the soles. They're also carefully designed to provide you with adequate traction.
3. Thorogood Men's American Heritage 6″ MAXwear Wedge Non-Safety Moc Toe Boot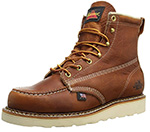 With its unique sole design, these Thorogood boots are ideal for working on slick surfaces.
Rather than a traditional sole shape, these boots utilize a wedge design that maximizes the contact surface area. The sole is made from Vibram and has a wavy traction pattern that can keep you upright.
Built into the sole is a fiberglass shank. This shank helps to absorb shock and provide torsional support. Because it's made from fiberglass rather than steel, the boots are also resistant to electrical shock. The uppers are made of stained leather. There's also a Poron comfort cushion inside.
4. Men's Timberland Pro TiTAN 6″ WP Safety Toe Work Boots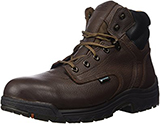 Another great option from Timberland is this waterproof shoe. It's completely sealed to keep your feet comfortable. There's also a moisture-wicking liner inside to help manage sweat and keep you cool.
To keep the odors at bay, this lining has an antimicrobial treatment applied. You'll find a polyurethane midsole inside for support. The rubber soles are made to provide great traction in any environment.
They're slip and oil resistant. The uppers are made of durable textured leather and have a speed-lace system. An alloy toe cap is also included for additional protection.
5. Caterpillar Men's Highbury Chukka Boot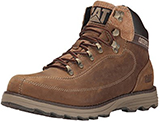 The Highbury boots from Caterpillar are designed with comfort in mind. Inside the boots is a nylon mesh lining. This material works to wick away sweat while helping to promote air circulation.
These features can keep you cool even on the hottest work day. Additionally, there's a Poliyou sock liner. It adds a bit of extra cushion and comfort. The EVA midsole will support your arches and absorb some shock as you work.
The outside of the boots utilizes split leather. The boots rise approximately 5 inches from the arch, providing you with great ankle protection.
6. Timberland PRO Men's 52562 Endurance 6″ PR Work Boot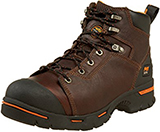 The Endurance line of boots from Timberland boasts a range of protective features. They're resistant to electrical shocks, slips, oil, and abrasion.
The rubber soles are quite thick. An additional layer of rubber is added to the toe to increase longevity. It complements the built-in steel toe. A puncture plate is also used to keep you safe from injury.
These boots have anti-fatigue technology that helps to absorb shock and bounce it back to key areas of your feet that need it most. A contoured insole also provides support. Full-grain leather is used on the exterior.
7. Carhartt Men's CMF6366 6 Inch Composite Toe Boot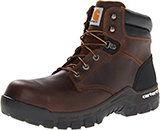 These Carhartt boots offer great durability while providing you with the flexibility you need to work comfortably. Rugged Flex technology is used on the soles so that the boots move with you.
The sole design provides traction as you walk while absorbing the force of impact. The thick rubber material is resistant to abrasive damage. They also have ladder lock channels so that you can climb with confidence.
An EVA midsole supports your arch. An additional Ortholite insole is also included. It has multiple layers of cushion to keep you comfortable no matter what. The uppers are made of full-grain leather and have a composite toe cap.
The Benefits of Quality Work Boots
Work boots do a lot more than just protect you from the hazards of your work site. They can also help you feel more comfortable throughout the day and avoid lasting health issues.
As you work, you're putting your body through a lot of strain. While most people don't realize it, your feet can have a significant effect on the rest of your body. Damage to your feet can lead to leg and back issues.
Inferior shoes will do more harm than good in the long run. Leg and back pain can creep up on you just by walking. Most construction sites are littered with debris, uneven terrain, and hard surfaces. With every step you take, your body has to compensate for the force of impact.
If you walk on concrete, the force of impact will travel up your foot and to your leg. The right pair of boots will absorb some of that impact by supporting your arch. This can help you avoid alignment issues, significant pain, and spinal disc problems.
The same goes for uneven terrain. To remain safe, your feet need to stay in the proper position. Otherwise, your body will work overtime to keep you upright. This can affect the way your muscles develop and result in an uneven gait.
To avoid this, you need to ensure that your boots have adequate support and fit snuggly. With the right footwear, you can avoid premature fatigue, excessive pain when you get home, and permanent body damage.
Things to Look Out For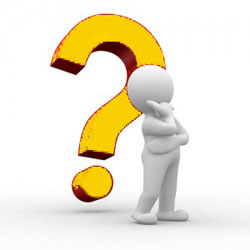 What exactly makes a good pair of work boots? With the plethora of options at your disposal, it's important that you take time to choose a pair that works for you.
When you're shopping, you should keep your work environment and job in mind. Keep an eye out for these features to ensure that you're ready for anything the job throws at you.
Support
You need to keep your feet supported throughout the day. Standard flat shoes just won't do. It's recommended that construction boots have heel and arch support throughout. Look out for a contoured footbed and thick soles. Support features will keep your feet in the right position throughout the day and enhance the way your body naturally absorbs shock. It will lessen the blow of impact with each step you take. This can help prevent foot fatigue, allowing you to work harder for much longer.
Cushion
Adequate padding or cushioning works similarly to support features. Many boots incorporate padding around your foot and as an insole. They absorb some shock to keep your feet feeling good. The last thing you want to deal with after a long work day is blisters and rashes.The right amount of cushioning will prevent this.
There's a number of padding options to go with. Some manufacturers utilize foam while others use gel. Both are great choices and can make all the difference. Just make sure that the cushions don't constrict your feet and are contoured to complement your arch.
Safety Caps and Plates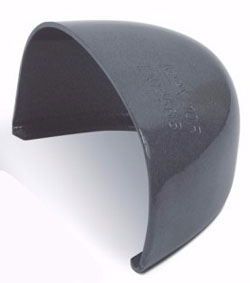 These features provide an effective barrier against accidental damage. Caps are built right into the boot and are designed to cover your toes. Your toes are very vulnerable without the right protection. Caps will keep you safe if you drop heavy objects onto your feet.
They're available in steel and composite varieties. Steel is a great standard option while the composite material is ideal if you work around electrical wires.
Metatarsal guards are similar to toe caps. They're a large plate that covers the upper part of your foot. They're specifically designed to prevent crushing accidents. Puncture plates are located on the bottom of the boot between your foot and the sole. As the name suggests, they'll ensure that sharp objects don't poke through.
Rugged Construction
Construction work boots should be built with tough materials that are made to last. Leather is a great material because it holds up well to abrasive damage and can last for many years. Beyond the exterior materials, pay attention to the soles and stitches. Reinforced stitching will ensure that your boots don't fall apart. The way the uppers are attached to the soles can also affect longevity. Goodyear welt construction is one of the strongest methods.
Adequate Traction
The soles of your work boots should be designed to prevent slip and fall accidents. Go with boots that have a thick sole, an adequate heel, and good grip. If you work in wet environments, it's a good idea to go with slip-resistant boots that will redirect water from the force of impact. Prominent lugs can also grip the earth and help you as you climb a ladder.
Over to You
Construction work boots are a worthy investment. It's important that you take the time to consider all your options so that you can choose the right one for you. A great pair of boots will keep you safe for years to come.