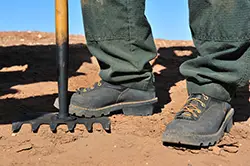 If you work in an environment that's filled with potential hazards, you're going to need a high-quality pair of work boots to keep you safe. One common issue that many hard laborers face is toe injuries.
Your toes are delicate and prone to injury when faced with significant impact or compression. Luckily, there are many great boot options out there that are specifically made to provide you with protection.
For many years, boots with steel toe caps have been the go-to. They offer excellent protection from accidents. However, steel also has its downsides.
It's heavy, susceptible to extreme temperature changes, and conducts electricity. For these reasons, composite toe boots are quickly becoming the norm on work sites around the world.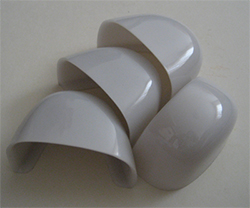 Composite toe caps offer similar forms of protection when compared to steel. However, it also has a number of added benefits.
If you're on the hunt for a new pair of work boots, here are some great options with composite toe caps to consider.
Top 5 of the Best Composite Toe Boots
1. Wolverine Men's Overpass 6″ Composite Toe Waterproof Work Boot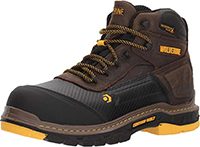 These work boots are ideal if you work in wet or cold environments. It has a carbon max toe cap with an ASTM rating of I/75 and C/75. It's resistant to both abrupt impacts and compression.
The uppers are made of a waterproof leather. The toe area has some added protection against abrasive damage for good measure. In terms of comfort, these boots utilize an athletic Contour welt construction method.
This unique design moves with your foot. It has specific flex points that can improve traction and overall comfort as you walk. Inside, you'll find an Ortholite cushioned footbed. The outsoles are slip, oil, and water-resistant. It's also resistant to chemical damage.
2. Carhartt Men's CMF6366 6 Inch Composite Toe Boot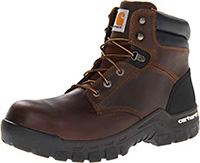 From Carhartt, these boots are designed to provide you with the protection you need without having to sacrifice comfort. Many unique features are included to reduce fatigue.
These include a dual-density footbed, an Ortholite top layer, and Strobel comfort cushioning. An EVA insert with a built-in steel shank is included. It provides rigidity as you walk.
The composite toe cap is extra roomy. It has space to move your toes while meeting ASTM safety standards. The uppers are made of oil-stained leather and are attached to the Rugged Flex outsole with cement.
3. Timberland PRO Men's Boondock 6″ Waterproof Non-Insulated Work Boot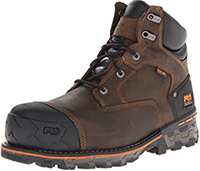 With multiple layers of water protection, these boots from Timberland have you covered in any work environment. The included composite cap is durable and meets ASTM electrical standards.
It's covered by waterproof leather and an additional layer of rubber for added protection. Inside the boots are a waterproof membrane and antimicrobial lining. The lining is designed to prevent bacterial growth and offensive foot odors.
Anti-fatigue foam is placed on the footbed. This material absorbs shock so that you can work harder for much longer. A fiberglass shank is built into the outsoles for further rigidity and electrical protection.
4. Timberland PRO 6″ TiTAN Composite Safety-Toe Work Boot
Timberland is a brand that's known for their innovative boot designs. The Titan is one of their most popular offerings because of its superior protection and comfort.
A composite safety toe is seamlessly integrated so that you'll never even notice that its there. It's made of a high-strength alloy. The cap is accompanied by an antimicrobial lining and breathable mesh for ventilation.
The outside of the boots are covered in a soft full-grain leather. It's designed to be pliable from the start so that you don't have to go through a lengthy break-in period.
5. Caterpillar Men's Creston 6″ Waterproof TX Comp Toe Industrial Shoe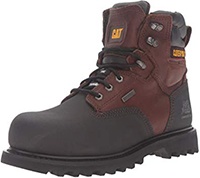 The Caterpillar Creston boots will make you prepared for anything work has to throw at you. The composite toe cover is covered by the brand's unique Tectuf material for added durability.
In addition to impact and compression resistance, the cap provides electrical hazard protection. The outside of the boots are made from top-grain leather and use a waterproof membrane construction method to prevent moisture from getting in.
If you work in a cold environment, you'll be happy to know that 200-gram Thinsulate wraps around your feet so that you can stay cozy.
What Exactly is Composite?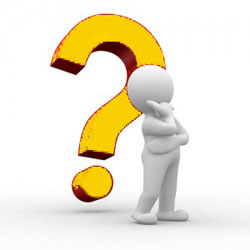 The term "composite" isn't used to represent a single material. Instead, it's used more like an umbrella term to describe many types of synthetic materials. A composite substance is made by combining multiple different components. When combined, the final outcome is a brand-new substance that's completely unique.
For toe caps, the composite materials used can vary from manufacturer to manufacturer. They don't contain any metal, therefore, they're light and non-conductive.
Some common materials used include fiberglass, Kevlar, carbon fiber, and plastic. Despite being light, composite toe caps are capable of withstanding a lot of impact and pressure. Most are a bit thicker around the toe cover to prevent damage upon impact.
The Perks of Composite Materials
There's a reason why composite toe caps have grown in popularity. They take the many great features of standard steel toe caps and expand upon them to give you more versatility and safety.
Enhanced Comfort
One of the biggest complaints about steel toe caps is that they add significant weight to the overall boot. While it may not seem like a significant difference when you first put them on, you'll feel the effects at the end of the day. Heavier boots require more energy to move. This can result in more fatigue earlier on in your workday. On average, composite toe caps weigh 30% less than their steel counterparts. You get the protection without all of the added bulk.
Reaction to Temperature
Composite materials aren't affected by the weather outside. This is beneficial if you work in extreme heat or snow. Steel is a conductive material. It doesn't take long for the temperature outside to make its way to your toes. With a composite toe cap, you don't have to worry about that. Your toes can stay comfortable and cozy no matter what the weather is like.
Electrical Protection
If you are an electrician or work around live wiring, boots with composite toes are the way to go. Many options are rated to fit ASTM standards for electrical shock. Because they contain no metal, these types of boots will keep you grounded. Typically, electrical hazard boots with a composite toe can keep you safe from an electrical jolt up to 6,000 volts.
Metal Detection
Many industrial sites are equipped with metal detectors at the entrance. While your coworkers with steel toe boots will have to take their footwear off for a manual inspection, you can walk on through with no problem.
Features to Look For
There are many things to look out for when you're shopping for the perfect pair of work boots. It's a good idea to match the features of a pair of boots to your specific work environments. The market is vast, so you'll have no problem finding something that works for you.
Impact Resistance
The main goal of a composite toe cap is to provide protection against impact. Many options have specific safety ratings that let you know how much protection a product offers. Impact resistance refers to the boots' ability to withstand significant force or shock in a short period of time.
Hazards like falling objects or accidental kicks to heavy machinery fall under this category. Look for the ASTM sign of approval. These boots undergo heavy testing for compliance. Go with boots that pass or exceed ASTM standards.
Compression Resistance
Compression resistance refers to the product's ability to a heavy load for extended periods of time. When excessive pressure is applied, many materials will get smaller or stretch out because the limits of the tensile strength have been reached. This happens with even the hardest material, including steel.
The composite material used for toe caps is specifically built with a high tensile strength in mind. ASTM compression can vary. Most ratings indicate just how much weight the cap can handle. A C/75 rating can take up to 2,000 pounds while a C/50 can withstand up to 1,750.
Materials
Beyond the material of the toe cap, you're going to want to pay attention to the rest of the materials used on the boots. A pair of boots will only provide you with adequate protection if they can hold up to the rigors of daily wear. One of the best materials is leather. Leather is naturally resistant to water penetration.
Additional treatments can add even more barriers against abrasive damage and more. For the soles, rubber is a great option. Not only does it hold up well against rough surfaces, but it also absorbs some of the force of impact as you walk.
Comfort
Comfort is key when you're on your feet all day. This is especially true if there's an additional layer to worry about. With traditional steel toe boots, it's not uncommon for the material to cause some discomfort against the skin.
Composite caps are generally more comfortable to wear. You can also get boots with some extra features. A soft lining will prevent chaffing as you walk while insoles provide arch support throughout the day.
Over to You
Composite toe caps can make a huge difference in how you approach the job. They offer more forms of protection than steel without weighing you down or causing discomfort. With the right boots, you can work confidently knowing that your toes are covered.