Polarized Sunglasses for Fishing (october 2017)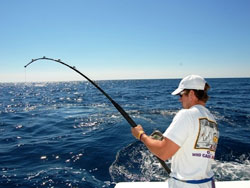 When you are out on the water searching for your next catch, your eyes are the most valuable tool you can have. It's important for guys to protect their eyes when they are fishing.
Not only is the sun beating down on you, but the added reflection of light off the water can do some serious damage to your eyes.
To make sure that your vision stays sharp even after you've reeled in your big catch, you should invest in some quality sunglasses.
There are a number of reasons why fishermen should wear sunglasses, the biggest being protection. You only have one pair of eyes, so it is important to protect them at all costs. Sunglasses help to protect your eyes from harmful UV radiation. Prolonged exposure to this radiation can cause a number of undesired health effects. Guys who spend a lot of time near the water are prone to getting cataracts early on. They are also at risk of experiencing growths on the eye.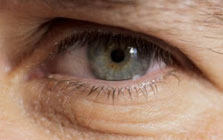 Sunglasses also help to protect the eyes from other dangers. Whether you are fly fishing on a moving river or lure fishing on a lazy stream, hooks are bound to come flying towards your face at some point.
While most fishing enthusiasts don't realize it, eye injuries from a hook are fairly common. With sunglasses, you have a protective barrier that will keep you out of harm's way.
Sunglasses also do wonders to improve your overall vision while fishing. With the water reflecting light into your eyes, heavy winds causing you to squint, and dust flying in every direction, your vision can become a bit hazy. With a pair of sunglasses, you'll be able to spot your game clearly. Many sunglasses even come with treated lenses that provide additional benefits based on your surrounding conditions.
The Top 5 Best Polarized Fishing Sunglasses
Costa Fantail Polarized Sunglasses – Costa 580 Glass Lens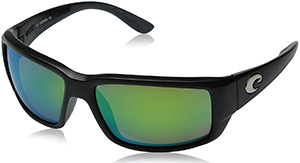 These sunglasses are incredibly stylish, yet effective on the water. The lenses are polarized to prevent glare and improve vision. It also implements unique color technology.
At first glance, the lenses are simply green. However, they block yellow light while boosting reds, greens, and blues. This improves contrast and definition. While the lens is made from glass, it is considerably lighter and more resilient than typical glass lenses.
The nylon frame is designed to fit snuggly on any sized head. The frame also utilizes stainless steel hinges that resist corrosion. It is also available in a multitude of colors, allowing you to choose a pair that fits your style.
————————————————————————————————————————–
Flying Fisherman Boca Grande Polarized Sunglasses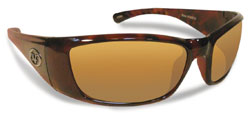 The Flying Fisherman Boca Grande sunglasses are carefully crafted to provide optimal vision in even the toughest of environments. The lenses are made from ophthalmic glass and are treated to provide numerous benefits.
The first of those treatments is AcuTint polarization. It eliminates glare and reflections while sharpening images. The lenses are also colored to filter out certain colors and UV rays. You can choose to get an amber and green lens or a smokey blue lens. Regardless of the color lens you choose, the sunglasses provide 100% UV protection. On top of all of that, the lenses are hard coated for strength and mirror coated for style.
The frame is contoured so that it sits snuggly on the head. It is rather chunky, but the large size only improves the fit of the sunglasses. Additionally, the larger lens size provides more coverage and protection.
————————————————————————————————————————–
Smith Optics Chief Sunglass

If you are looking for a high quality pair of sunglasses, the Chief by Smith Optics is a great option. Not only is this pair of sunglasses incredibly stylish, but it is durable and effective for fishing.
The lenses are photochromic and made from strengthened glass. They are also polarized and hydrophobic. Essentially, these sunglasses have all of the best features packed into a sleek and comfortable design.
The frame has a unique design that covers a large portion of the face. Thanks to the large frame, the lenses actually cover more of your eyes compared to other glasses. It also uses stainless steel components to resist corrosion, even if you expose it to the salty air of the ocean.
Smith Optics provides a number of different frame and lens style options. They have a variety of different lens color choices, all providing improved optical clarity in different environments.
————————————————————————————————————————–
Suncloud Warrant Polarized Sunglasses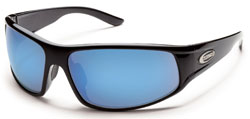 While the Warrant sunglasses from Suncloud may be on the lower end of the price spectrum, they certainly doesn't skimp on protection and features.
The polarized lenses are made from polycarbonate, keeping the weight down while still being durable enough to withstand some wear and tear. The lenses are also quite large. They fully cover the eye and have very little light leakage.
The curved frame is made from nylon and is designed to fit on larger heads. These shades come in 5 different colors, all with different lens colors. Overall, it is a great option for guys on a budget that still want a quality product. These sunglasses actually have a lifetime warranty. Should they experience significant damage, Suncloud will replace them free of charge.
————————————————————————————————————————–
Costa Coba Polarized Sunglasses – 580 Polycarbonate Lens

This pair of sunglasses is a bit of a unique choice in terms of appearance. It uses an interesting nylon frame that doesn't go around the entire lens. The lower half of the lens is exposed, which could ultimately lead to a more comfortable fit.
The lenses are polarized and made from polycarbonate. They are rather large in size, ensuring that the eyes get maximum coverage. They are also tinted in a variety of color options, allowing fishermen to choose the right color for their environment.
The sunglasses come in a variety of frame styles as well. While it is a great option for fishing and being out in the water, they are designed to fit in a casual environment as well.
————————————————————————————————————————–

————————————————————————————————————————
Video Overview
What To Look For In A Pair Of Fishing Sunglasses
Choosing the right pair of sunglasses is important. You'll want to find a pair that works with the type of fishing you'll be doing and the environment you're in. Many manufacturers include various features to aid you in your fishing endeavors. You should consider which features you will need prior to making a decision.
Polarized Lenses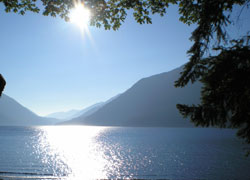 Polarized lenses are an all around good feature to look for in a pair of sunglasses, regardless of what they are being used for. Polarized lenses help to prevent strain and damage in the eyes. They reduce up to 98% of reflected light, ultimately reducing glare.
They improve overall clarity, allowing fishing enthusiasts to see more detail in the water.
Photochromic Lenses
These lenses are a bit of a step up from standard polarized lenses. They are adaptive, changing their tint based on the amount of UV rays present. It is a great option for fishermen who will be on the water all day. These sunglasses will constantly change, providing you with the best vision possible.
Lens Material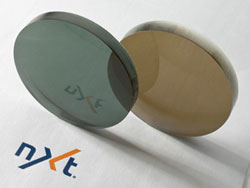 Generally, lenses designed for outdoor use are made from one of two materials: polycarbonate and NXT. Either material is great for fishing and rugged activities on the water.
That being said, the two materials are not made equal. Polycarbonate is generally cheaper than NXT. It is impact resistant, but still prone to damage. NXT is stronger than polycarbonate. It is virtually unbreakable and incredibly light.
That last quality makes it the ideal material for running sunglasses where you will be wearing them for prolonged periods of time under moving circumstances, but also for golf sunglasses or fishing where the toughness provides optimal protection for your eyes from flying objects like golf balls or fishing hooks.
Colored Lenses
Choosing a pair of sunglasses with colored lenses can be beneficial based on the conditions you'll be fishing in. Different colors provide various improvements. Gray lenses enhance color and depth perception. They will allow you to see well in deeper waters. Copper lenses filter out blue light, making them ideal for spotting brightly colored fish and obstacles. They are also great in low light conditions, improving your vision during sunsets.
Lens Coatings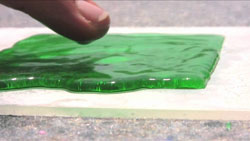 High quality sunglasses often come with some type of coating. Hydrophobic coating is one of the most popular options.
It repels water to ensure that the occasional water droplet doesn't affect your vision. Lenses may also be coated with chemicals to make it fog proof. These are great for humid environments.
Frame Shape And Style
The actual frame of the sunglasses is just as important as the lenses. Not only do you want to ensure that the frame fits your face, but you'll want to make sure that it can withstand whatever you throw at it.
Wrap around frames are a great option for guys who are fishing on a boat. They'll stay on your face regardless of how strong the wind is. You may also want to look for straps or bands for added security.

There are also floating frames available, making it easy to spot and retrieve a lost pair of sunglasses. Additional frame features can make wearing the sunglasses more comfortable. Venting will keep you cool in the sun while a protective skirt will ensure that no debris gets into your eye.
Getting Prescription Sunglasses
If you already wear prescription eyeglasses, you can easily get a custom pair of prescription sunglasses. You'll be able to pick all of the features you want, from frame style to lens coating. The pair will be truly customized for your eyes. In the end, you'll have the protection you need with the vision correction you are used to.